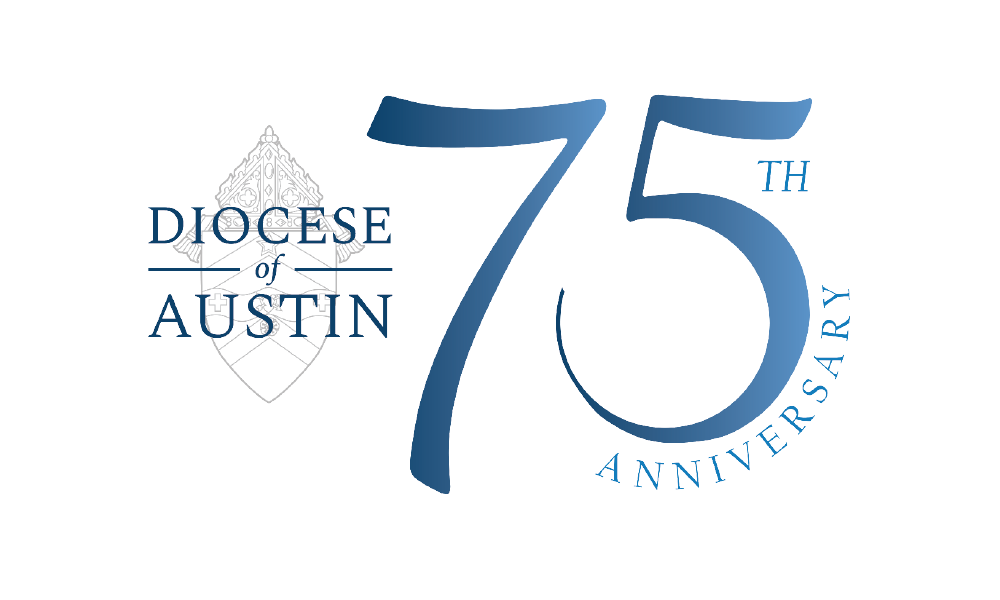 ---
1947-2022: Happy anniversary to the Diocese of Austin
The Diocese of Austin has journeyed for 75 years, and next month, on Nov. 19, we officially open our year of celebration! With a Mass of thanksgiving, we begin our year reflecting on all that God has given us!
There is so much to be grateful for — our unprecedented population growth, a diversity that brings peoples from all walks of life together, the building of new sanctuaries and so much more — our Catholic faith is robust and the excitement is only beginning. 
From just 83 parishes in 1947 to 122 parishes, today, the Diocese of Austin is blessed to have 20 Catholic schools, four university Catholic centers and more than 200 priests serving the people of God.
Bishop Joe Vásquez chose "That they may all be one" (Jn 17:21) as the theme for the 75th anniversary, which is also the theme for our Eucharistic Revival that kicked off last June. "My hope is that these initiatives will complement one another by fostering a greater love for the Eucharist and serving as a source of unity in our diocese," the bishop said in the September issue of Catholic Spirit. 
Here is a snapshot of some of the activities in place to celebrate our anniversary year. (Better yet, stay tuned to our 75th anniversary website at austindiocese75.org for updated information.)
Kickoff celebration
The anniversary celebration will kick off with Mass on Nov. 19 at the Bell County Expo Center in Belton. Father Dave Pivonka, TOR, president of Franciscan University of Steubenville in Ohio, will be our keynote speaker and the program ends with Adoration, praise and fellowship! Seating is limited for this event, so keep an eye on the website for more information.
Commemorative book
Bishop Vásquez has also commissioned a commemorative book featuring the rich history and beautiful images that make up the Diocese of Austin. Books will be available for purchase soon at your parish and the diocesan Pastoral Center.
Pilgrimage sites
Pope Francis has granted the faithful a plenary indulgence for the occasion of the 75th anniversary of the Diocese of Austin. There are five parishes throughout our diocese designated as pilgrimage sites — from Waco to Marble Falls, College Station to Taylor and, of course, St. Mary Cathedral in Austin. There are steps to take to be granted a plenary indulgence that include the following: after celebrating the sacrament of reconciliation (confession) preferably in your own parish, the faithful are invited to visit a pilgrimage site, participate in a sacred celebration (Mass) or remain in prayer, which concludes with the Our Father, the Profession of Faith and invocations to the Blessed Virgin Mary. And yes, you'll find more information on our website!
History exhibit
There's no better way to understand our present than to learn about our past! A history timeline will be on display at parishes throughout the diocese. Stay tuned to your parish bulletin and parish website to see when the kiosk will be arriving in your parish. The diocesan Archives Office has also developed a presentation for groups interested in learning more about the diocese's history. Contact Olivia Herschel at olivia-herschel@austindiocese.org or (512) 949-2474 for details about this presentation.
There is so much to be thankful for — our dedicated clergy and religious, the lay faithful and the 700,000 Catholics who call Austin and the Diocese of Austin home! The 75th Anniversary Committee — composed of diocesan staff members, lay volunteers and clergy — eagerly looks forward to sharing this upcoming year with you.
Happy anniversary, Diocese of Austin! May God continue to bless our shepherd, Bishop Joe Vásquez. Don't forget to visit austindiocese75.org for more information.