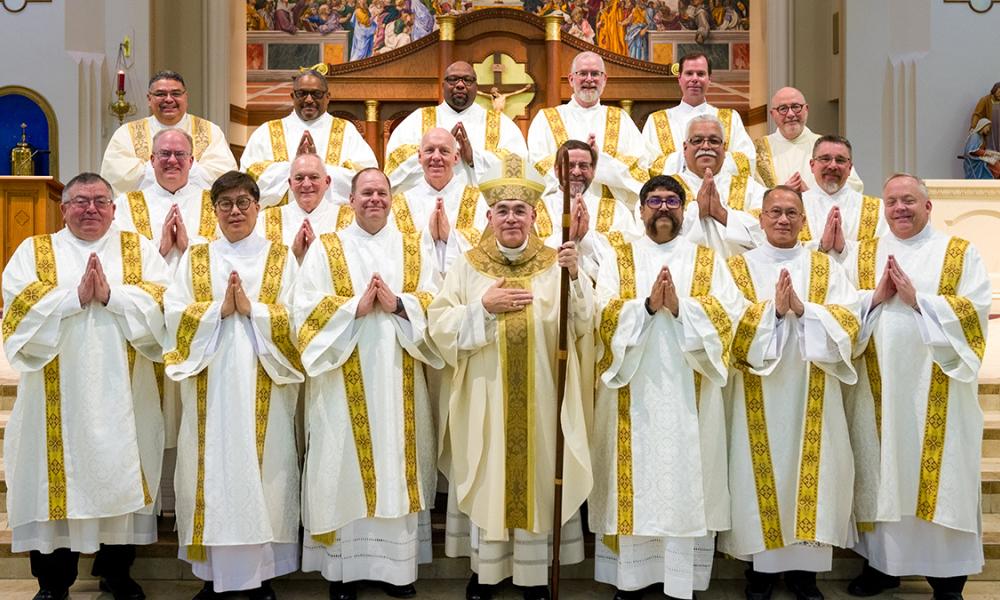 ---
Bishop Vásquez Ordains 16 Deacons to Serve the People of God
Bishop Joe Vásquez ordained 16 permanent deacons March 19, the feast of St. Joseph, at St. William Parish in Round Rock.
During his homily, the bishop reminded the men to rely on God's grace as they begin their work as deacons.
"God knows you intimately and has blessed you with many gifts and talents, but God's call is not based solely on the gifts and talents you possess," Bishop Vásquez said. "He has called you knowing full well your limitations and your influences. Remind yourself often and with humility that your vocation is from God and must be received as a full gift every day."
Deacons serve the people of God through the service of the Word, Eucharist and charity in communion with the bishop and the priests.
"As deacons, you, along with priests, have the duty of proclaiming the Gospel and explaining the Word of God," the bishop said. "In a few moments I will entrust you with the Book of Gospels. With these words, 'Receive the Gospel of Christ whose herald you have become.' As herald, you must always speak in his name."
As deacons, they will also assist priests in the celebration of the Eucharist, he said.
"Your service at the altar will help the faithful come to a fuller and deeper understanding of and participation in the great mystery of our faith," Bishop Vásquez said.
Also, through works of charity, deacons are called to care for those who are hurting – the poor, sick, orphans and widows.
"As coworkers with the bishop and his priests, you must be the living and working expression of the charity of the church … Never allow your promise to be a servant of charity, to grow cold or indifferent," the bishop advised. "Jesus wants us to touch human misery, to touch the suffering flesh of others. He hopes that we will stop looking for those personal communal niches that shelter us from the maelstrom of human misfortune and instead enter into the realities of other people's lives and know the power of tenderness."
Bishop Vásquez encouraged the deacons to follow the example of St. Joseph, the faithful husband of Mary and earthly father of Jesus.
"If at times like Joseph we do not fully understand what is being asked of us, let us remain open to God's word and know he will give us the courage to do what the moment demands," he said.
Fifteen of the 16 men are married, and the bishop thanked their wives for their support throughout the diaconal formation process and as they enter their service as deacons.
"I say thank you to the wives for the love and support you willingly gave your husband as he responded to God's call," he said.
The Diocese of Austin is currently accepting applications for the Deacon Class of 2028. For more information on the diaconal formation process, call (512) 949-2459 or email diaconateformation@austindiocese.org