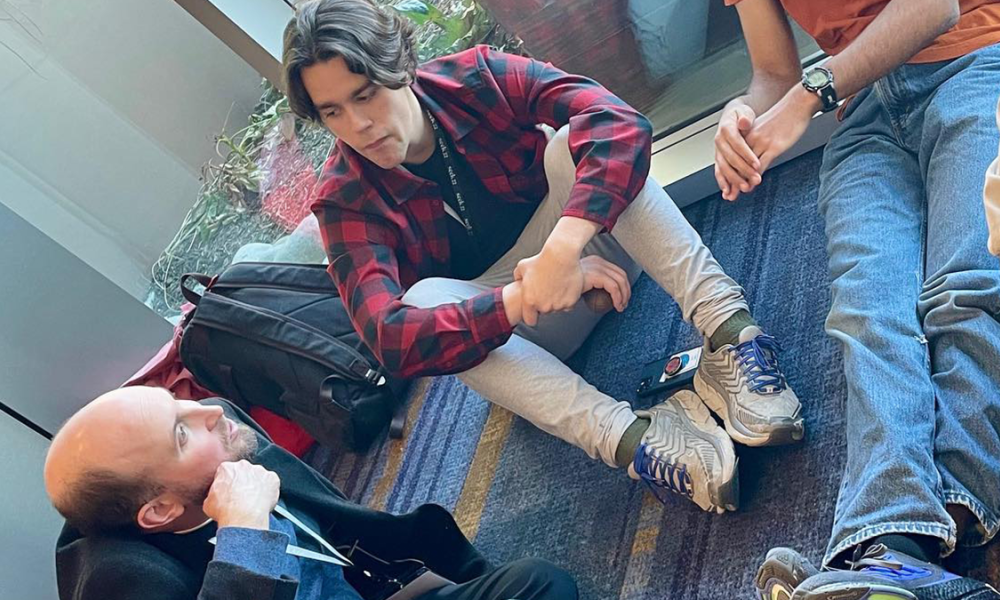 ---
Bishop's Interview
Campus Ministries Journey With Young Adults on the Road to Discipleship
Editor: Bishop, as my son prepares to graduate high school, I have been thinking a lot about universities and colleges and about campus ministries. Our diocese has several large universities in our boundaries, and all have robust campus ministries, correct?
Bishop Vásquez: First of all, congratulations on your son's graduating from high school. I am sure that like all parents, you are proud and want the best for your son, especially as he leaves home and transitions to a new chapter in his life.
The Diocese of Austin is blessed to have active Catholic campus ministries in the major universities we have in Central Texas: Baylor University in Waco, Texas A&M University in College Station, Texas State University in San Marcos and the University of Texas in Austin. We also have a campus ministry presence at the University of Mary Hardin Baylor in Belton.
At the four major universities, we have priests who serve the students during the college years. The goal for our campus ministries is to help students stay connected with their Catholic faith. College years are critical as young adults experience life away from home, some for the first time. As bishop, I want to ensure that we provide the most robust campus ministries so our students can practice their Catholic faith, not just on the weekends but every day.
We want to encourage and help our young people to be strong Catholics, thus, our campus ministries are designed to nurture the faith these students have initiated with their parents. We want them to continue to receive the sacraments, study Scripture, learn about the lives of the saints and become disciples of the Lord.
Sadly, we lose many of our college-age students as they stop attending the Catholic Church or are proselytized and go to another church. Through our campus ministries, we want to nurture students in the faith and provide warm, welcoming environments where students live their Catholic faith well.
Editor: What are some of the basic building blocks of strong campus ministries?
Bishop Vásquez: I think one of the most basic elements is a place to call home. As young people are away from home, we want to offer them a new home that becomes like family. It goes without saying that our campus ministries must be dedicated to celebrating Mass and the sacraments. Campus ministries offer a variety of activities for our young people, including retreats, small groups that get together to discuss the faith or study Scripture, prayer groups who learn to pray before the Blessed Sacrament or to pray the rosary. All of these elements are offered to nurture their faith and challenge them intellectually and spiritually.
Another vital element is service. Campus ministries offer opportunities for the young adults to put their faith into action, whether it's helping the poor, bringing meals to the homebound, or through mission trips to other countries. Our faith must be put into action. As Catholics we primarily encounter Jesus Christ through the celebration of Eucharist, but we also encounter Jesus Christ through people, particularly those whom we serve on the fringes of society. Therefore, service opportunities are critical to helping our young adults grow in their faith and in their relationship with Christ.
Allowing college students the opportunity to discern their vocation – whether it is to the priesthood, married life, single life or as a religious – is an important part of campus ministry. Our campus ministries help students realize how God may be calling them to a specific vocation and give students the opportunity to connect with others who are experiencing a similar calling.
Editor: Our campus ministries are also blessed by the presence of FOCUS missionaries. What do they do at the universities?
Bishop Vásquez: At the four major universities, we have young adults trained by the Fellowship of Catholic University Students (FOCUS). They are very dynamic and on fire for their faith and their goal is to share the hope and joy of the Gospel with college and university students. An important element of campus ministry is peer ministry in which fellow students minister to one another. They pray together, care for each other and hold one another accountable. FOCUS missionaries encounter students in friendship where they are, inviting them into a personal relationship with Jesus Christ and accompanying them as they pursue lives of virtue and excellence.
In addition to FOCUS, we also have St. Paul's Outreach (SPO) on the campuses of Texas State University and Texas A&M University. These missionaries train student leaders to build communities that reach out and invite college students and young adults into a deeper relationship with Christ.
Editor: What is your prayer for our young people who are graduating from high school and entering the next phase of their faith?
Bishop Vásquez: I pray our young people will stay strong in their Catholic faith, and they will grow in a deepening appreciation of what it means to be a Catholic. I also pray that our Catholic campus ministries may be vibrant communities where university students encounter Jesus Christ and are strengthened in their Catholic faith through the sacraments, studying the Word of God and serving those in need. I ask the protection of our Blessed Mother over all of our students, priests, religious and laity who serve and who are served by our campus ministries across the diocese. Amen.