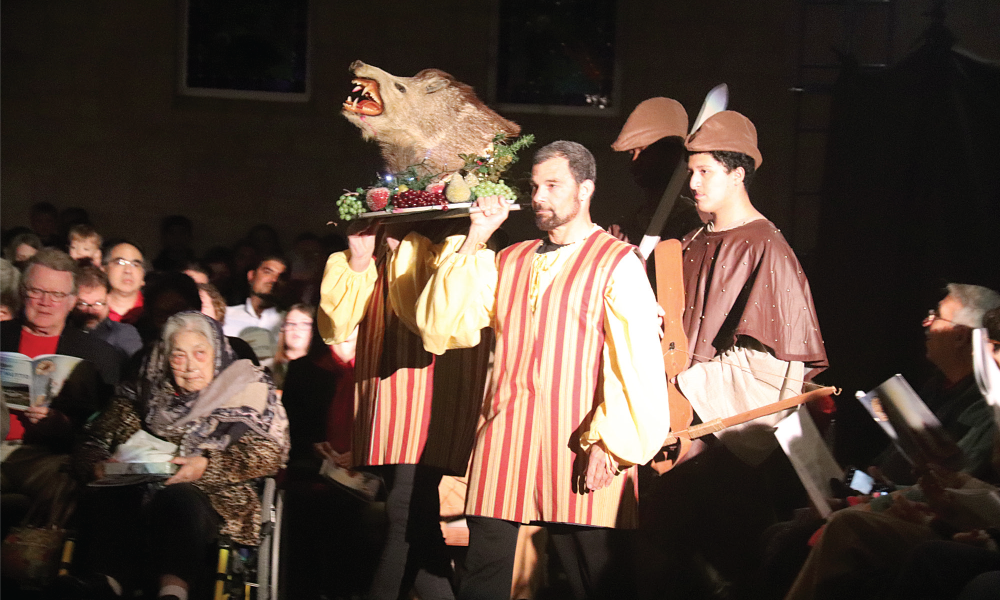 ---
Boar's Head is a Community-Wide Effort at St. Albert the Great
Every year in early January, parishioners of St. Albert the Great in Austin propel the church sanctuary back hundreds of years to a long-ago past. English lords and ladies, kings and queens, knights and sprites come to life in the annual "Boar's Head and Yule Log Pageant." It's an hour-long extravaganza in which actors of all ages and races don vibrant period costumes and sing and dance their way through a celebration that melds a traditional medieval pagan holiday feast with the Christian celebration of the Epiphany.
"With the set and the costumes and music, the pageantry of the whole show, it transports people back in time and enables them to sit back and have a relaxing, fun evening. And it concludes with a teary-eyed, spiritual climax," said Steve Smith, a performer who's played the part of the herald, a sort of a town crier, for so long he is known as the Boar's Head guy. "It's our gift to the community for closing out the season."
Sabrina Blackwell joined St. Albert the Great Parish in 2009 and discovered Boar's Head through a ministry fair. Joining the cast was a natural fit because she grew up dancing ballet and tap and is a big fan of the performing arts. She danced as a lady, choreographed dancers ages 8 to 15 and is now executive producer. In fall 2015, Blackwell's first son was born. Come January, he was wrapped in swaddling clothes and placed in a manger. So that year, Sabrina, husband Matthew and their infant son, ironically named Joseph, played the Holy Family.
Blackwell said Boar's Head is special because it celebrates the parish's diversity.
"We've had all kinds of Holy Families. We've had Asian and Black and Hispanic and white and even some inter-racial families. It's been just a delight to look at the past years … seeing all the Holy Families."
She said the Boar's Head pageant is an opportunity to teach about the Epiphany.
"It invites the community into the story of Jesus and into the realization the Magi had about Christ coming for us," Blackwell said.
The actor who plays Jesus is a closely guarded secret. Not many know who the Messiah will be until the show's conclusion when stable doors open, and all eyes focus on the Nativity scene.
With 200 participants and 300 people total involved, Boar's Head is one of the parish's largest ministries. There are ample opportunities for everyone: building sets and props, serving food, dancing, singing, sewing costumes and advertising. Participants say it's a great way to develop lasting relationships.
One such relationship is between fellow parishioners Francois Luca and Andy Rainosek. Luca, who had just moved to Texas from California, and Rainosek, a St. Albert founding member, met during a rehearsal before the first Boar's Head performance in 2003. They played opposing parts, a lord and a lady, naturally, and married in 2019.
"We had a giant papier-mâché boar that would get roasted on a spit. We had roaming minstrels … It's just a nice recap of all the spiritual and emotional feelings and fun of the holidays. It's very beautiful. It ends the season in a very special way for me," Luca said.
Although the origin of the first Boar's Head festival is murky, the genesis comes from medieval England when wild boars roamed the forests and threatened travelers and villagers. Killing a boar and preparing it for a feast (like a Thanksgiving turkey) became a traditional and symbolic way to celebrate the winter solstice. When Christian missionaries moved into these communities, they adapted the festival to celebrate the birth of Jesus. Today, Boar's Head festivals are celebrated at various churches across the U.S. and England. One long-running Boar's Head pageant takes place at the Christ Church Cathedral in Cincinnati, where a professional singer named Bill Brooks performed decades ago. In 1999, as Msgr. Bill Brooks, he was transferred to St. Albert the Great Parish. A few years later, he pitched the idea of holding a Boar's Head Pageant. He saw it as a way to bring the parish community together.
"After I showed them what to do, how to do it, they did their own thing … I just brought it in," said Msgr. Brooks, who is now retired and living in Austin. "They've been very creative with what they've done. I say: 'Oh, God, you've been good to this parish.'"
Sara Brumfield, husband Ben and daughters Octavia and Josie have sung and danced and paraded their way through about 13 Boar's Head shows. Collectively, they have played shepherds, singing minstrels, guards and candle bearers. Today, Brumfield is an assistant producer and fundraiser. She said spectators should expect a fast-paced show.
"It's just, boom, boom, boom, stuff's happening all the time. It's a spectacle. Lots of people in and out, a lot of song," she said. The show culminates with a reverence as the stable doors are opened.
---
The Boar's Head Pageant is set for Jan. 8 at 6 p.m. at St. Albert the Great Parish in Austin. Although admission is free, VIP seats, for a price, are available. To cover expenses, ads are sold in the festival program. More information is available online at boarsheadaustin.com.
---
Fred Afflerbach is a freelance writer living in Cedar Park. He's a 25-year member of Knights of Columbus Council 7600 at St. Margaret Mary Parish. His work has been published in several daily Texas newspapers and he has published two novels.