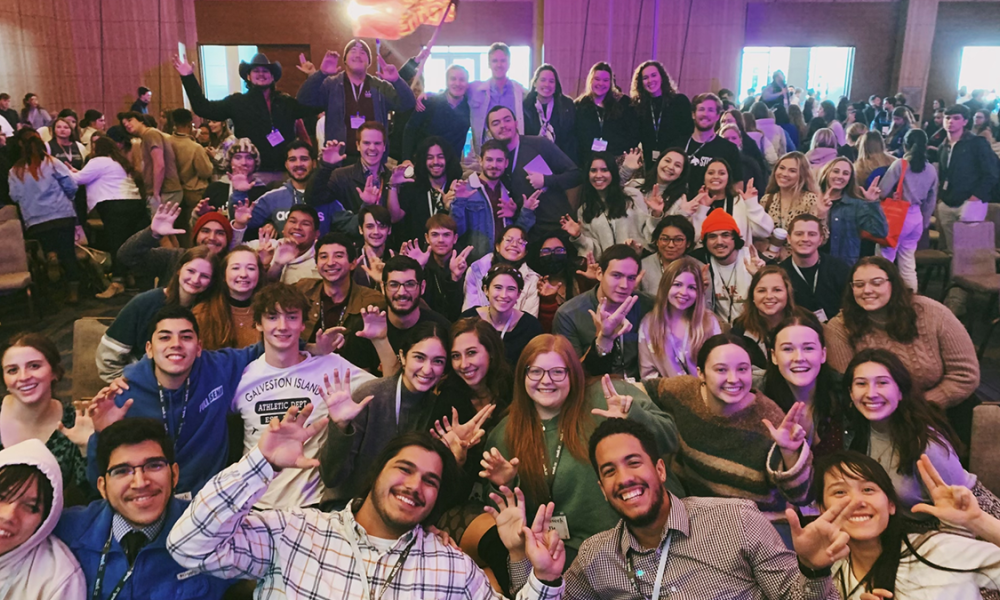 ---
Campus Ministry
SEEK22 Emboldened College Students to Stand Together in Faith
If you passed by your local university a few weekends ago (Feb. 4-6), you may have noticed the dorms, classrooms, bars, or recreation areas were suspiciously quiet. Of course, it was frigidly cold for us Texans, and many students likely chose to catch up on overdue homework. But I'm not talking about the winter storm that wreaked havoc on college students' weekend plans. I'm talking about SEEK22 hosted by the Fellowship of Catholic University Students (FOCUS).
More than 22,000 students and parish groups from all over the world gathered in small communities to experience the SEEK22 conference. More than just a small group retreat, the SEEK22 conference allowed for students to experience the fervent heart of the church as it continues to beat courageously in the face of a world that works incessantly to destroy it.
Refusing to let the cold slow us down, more than 1,200 attendees, including students and campus missionaries from Texas State University in San Marcos, the University of Texas in Austin, Texas A&M University in College Station and Baylor University in Waco, along with 10 other schools across Texas and Louisiana banded together to host a SEEK22 experience like no other at the Irving Convention Center. Bishop Edward J. Burns and Auxiliary Bishop Greg Kelly from the Diocese of Dallas celebrated Mass. "DallaSEEK22" emboldened our students to stand together in support of our faith.
For me, the weekend was a witness to hope for the future of the church and an opportunity to share the immense depth of the faith with those I have walked with all year. How often I find my own words falling short to cut to the heart of students on campus when walking with them in faith. Through SEEK, the Holy Spirit helped these students take a giant leap forward in their faith.
"SEEK cut through obstacles that prevented students from encountering the Father's love. It set the stage for students to address questions that otherwise would be lost in the busyness of our college campus," said Andy Meza, a student at Texas State University.
These words rang true for two other Texas State students Cole Leonard and Cole Schultze. Both of the recent converts to Catholicism are hungry to internalize the wisdom of the church, SEEK22 provided a feast – especially from the more than 25 speakers.
Jason Evert, a Catholic author and speaker on chastity, spoke about jumping into your masculine identity. Msgr. James Shea, president of the University of Mary, shared a profound exhortation on the Cross.
These talks and many others had these two parishioners of Our Lady of Wisdom Catholic Center in San Marcos writing page after page in their personal journals. In speaking with the young men after the conference, Cole Leonard conveyed his recent intrigue for religious life and was excited to share that he had danced with a group of religious sisters.
Cole Schultze was amazed that he spent an hour in a line for confession that wrapped around the entire conference center.
"But once you're in the seat and know that God wants to rescue you, it makes it so much more rewarding," he said.
Since returning from the conference, the FOCUS missionaries of Texas State are committed to helping students develop habits of discipleship, such as prayer, frequenting the sacraments and sharing the faith.
Our battle cry will be what Father Mike Schmitz, a priest of the Diocese of Duluth, Minn., and host of the "Bible in a Year" podcast, exclaimed in his closing keynote, "I don't want to let what Jesus did, stop with me."
College students can already register for SEEK23 happening in St. Louis, Missouri, on the web at seek.focus.org.