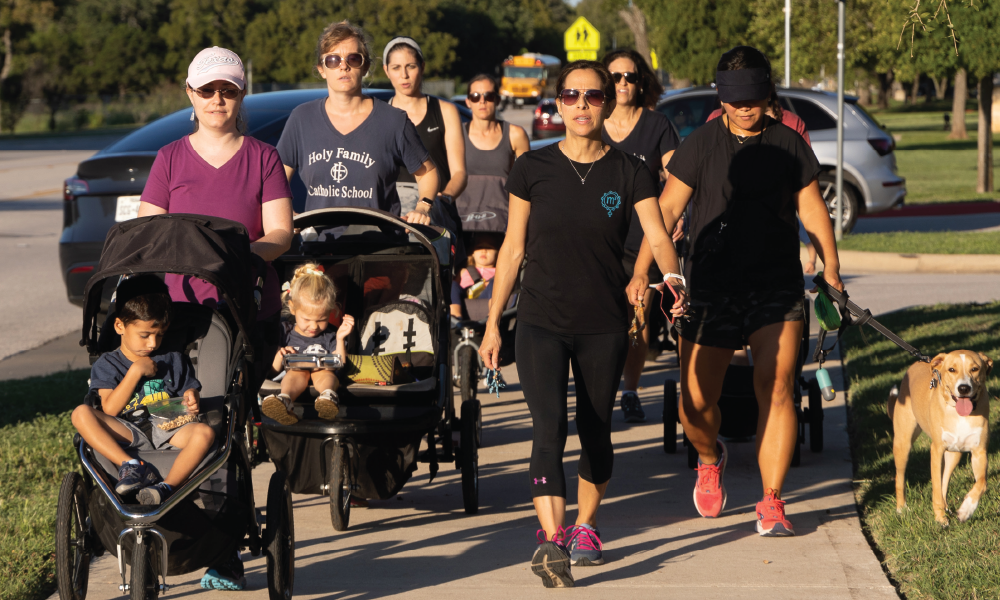 ---
Catholic School Moms Begin Their Days by Praying the Rosary Together
As the school year moves into overdrive with hectic schedules and more stress on students and parents, two groups of moms at Holy Family Catholic School and St. Dominic Savio High School in Austin are meeting regularly to build community, build their prayer lives and build their bodies.
Both groups pray the rosary together. The moms from St. Dominic Savio meet daily in the school's chapel, while the moms from Holy Family take it literally a step further by walking around the neighborhood near the school as they pray. The Holy Family group, which is called "Mamas Moving with Mary," meets every Tuesday morning after drop-off to walk and pray the rosary. Both groups agree that these dedicated times for prayer start their days on the right foot.
"On airplanes, flight attendants tell us to put our oxygen masks on first and then help those around us," said Veronica Cogwin, the coordinator of the Holy Family moms. "Prayer is similar in that by taking care of ourselves, our health, our hearts and our minds, we find we're in a much better position to take care of our families."
Both groups keep their families in their hearts as they pray. Personal intentions are shared, as are those for families, students, teachers, parents, staff and the entire school community. In today's sometimes confusing and embattled education system, praying gives them a sense of peace and confidence that their children are in good hands, said Lisa Pettinato, the coordinator of the Savio moms.
"Prayer is one of the ways we, as parents, can cooperate in God's plan for our children to grow into the young men and women he created them to be," she said. "It is also a way for us to build community by praying for one another and sharing the intentions we have for our own families and to grow closer in our own relationship with God and with each other."
Cogwin was introduced to the walk and pray concept when she and her family lived in Columbus, Ohio. She and two other moms were preparing for a half marathon; they prayed the rosary as they trained. As they continued, their devotion to Mary grew, and they decided to invite others to join them. The group grew and became popular, as did the "Hail Marys aren't just for football" T-shirts they created and sold in football-crazed Columbus at a Catholic women's conference. When her family moved to Austin, she started "Mamas Moving with Mary" at Holy Family. She was also inspired by a photograph of St. John Paull II walking while praying the rosary.
"We like to think we are following [St. John Paul II's] example of being active while praying," she said. "The rosary is a beautiful prayer that allows us to follow the life of Christ and his mother through each mystery. We all know the benefits of being both physically active and spiritually healthy, and our ministry wonderfully combines the two."
Pettinato said her group meets every school day during the school year, offers a Zoom link for those who can't be there, and occasionally has dads join them. They offer each decade of the rosary for a specific student, teacher or staff member and by the end of the school year they have prayed for every one of them by name. The Holy Family group includes several moms pushing little ones in strollers and is usually done by 8:40, giving them ample time to take little ones off to preschool or head out to a day of errands or work. 
"Starting my day with the rosary helps me get through the rest of the day with a little more peace," Pettinato said. "I also enjoy the fellowship with the other rosary group members, and it comforts me to know my daughter and all of the Savio students are covered in daily prayer."
The Savio group has also traveled to a few remote locations to pray the rosary, including Our Lady of the Rosary Cemetery, various local parishes and the Marian Shrine of Our Lady of Schoenstatt. In addition to the needs of the school community, both groups often pray for the needs of schools in general, as well as for the U.S. and the world as a whole.
"It's a tough time to be an educator, and we are so grateful for the faculty and staff we have at Holy Family," Cogwin said. "I love this group because not only are we getting our heart rates up, we are also lifting our hearts up for our school through the intercession of the Immaculate Heart of Mary. It's truly an honor to pray and walk alongside all of them."
---
Holy Family's "Mama's Moving with Mary" meets on Tuesday mornings after drop-off at the school, while Savio's group meets daily in the campus' chapel. There is also a rosary group that meets on campus every Friday morning after drop-off. For more information on the group at Holy Family Catholic School, call (512) 246-4455. For more information on the group at St. Dominic Savio Catholic High School, call (512) 388-8846.