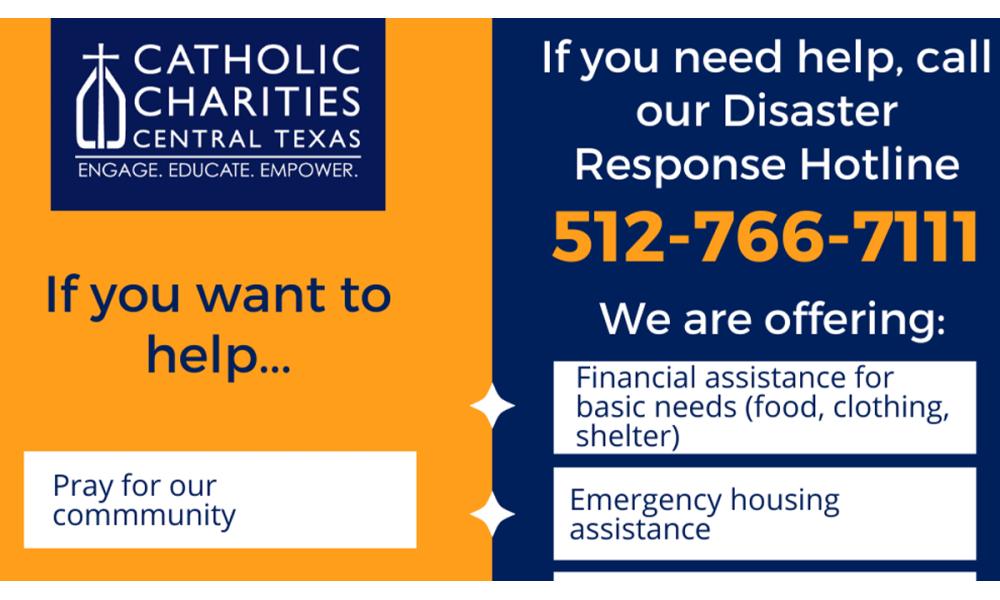 ---
CCCTX Offers Help to Central Texans in Path of March 21 Tornadoes
The Disaster Response team at Catholic Charities of Central Texas (CCCTX) was activated on March 21 after several tornadoes touched down in Central Texas. Homes and vehicles were damaged or destroyed by the tornadoes, strong winds, heavy rain and hail.
CCCTX is offering the following support to those affected by the Texas tornadoes: financial assistance to help families meet basic needs of food, clothing and shelter, short-term emergency housing assistance, rent and mortgage assistance due to lost wages, free mental health counseling for anyone feeling anxiety or stress and basic needs items such as diapers and hygiene materials.
Those in need of the CCCTX tornado relief services should call the CCCTX Disaster Response hotline at (512) 766-7111. If no one is available to answer your call, please leave a voicemail with your contact information to receive a callback.
Anyone in the 25-county area is eligible, the counties include Bastrop, Bell, Blanco, Brazos, Burleson, Burnet, Caldwell, Coryell, Falls, Fayette, Hamilton, Hays, Lampasas, Lee, Limestone, Llano, Mason, McLennan, Milam, Mills, Robertson, San Saba, Travis, Washington and Williamson counties.
"Everyone in our area has access to our tornado relief services, and we serve anyone in need — not just Catholics," said a spokesperson for CCCTX. "We are dedicated to helping people of all ages, faiths, ethnic backgrounds and economic circumstances to strengthen families and address basic needs across 25 Texas counties."
Financial donations are needed. Those who wish to support relief efforts can make an online donation at www.ccctx.org/donate.