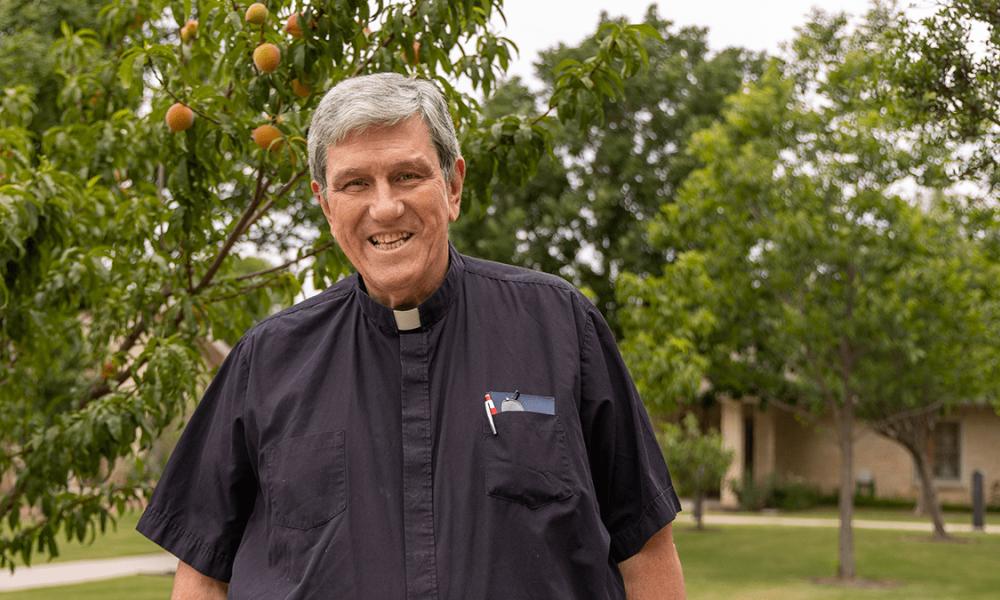 ---
From Chicago to Austin: Father Jamnicky Strives to Be a Priest of the People
According to Father John Jamnicky, a Catholic priest is responsible for more than just the spiritual wellbeing of Catholics.
"When a priest is assigned to a parish, he has a geographical territory. And his responsibility is not just to the Catholics who live in that territory – it is to … every living soul … in that territory," Father Jamnicky said.
Throughout his 50 years of priesthood, Father Jamnicky has served the spiritual and physical wellbeing of those in his care. He has supported social movements important to his parishioners, contributed to traveling ministry, and even rebuilt a church. After serving the Archdiocese of Chicago for many years, Father Jamnicky moved to the Diocese of Austin, where he has helped out in over 70 parishes – and he is open to meeting more.
A few days after his priestly ordination in May 1972, Father Jamnicky celebrated his first Mass at his home parish of St. Francis de Sales. He requested that both the Knights of Columbus and the Knights of St. Peter Claver serve intermingled.
"I loved them both and wanted them to be together," he said.
Nine months into Father Jamnicky's first assignment as associate pastor in the Archdiocese of Chicago, the pastor passed away, which left Father Jamnicky as pastor. During his 10 years at St. Martin Parish, the community grew from 100 to 400 families.
In 1982, Father Jamnicky was assigned as chaplain of Chicago O'Hare International airport, both for civilians and the Illinois Air International Guard.
Then for several years he worked for the U.S. Conference of Catholic Bishops (USCCB) as the national coordinator for the Human Mobility Apostolate and the national director of the Apostleship of the Sea.
Planting his feet firmly on the ground again in 2006, Father Jamnicky returned to the Archdiocese of Chicago to found St. Raphael the Archangel Parish, originally housed in a barn. There, he "scavenged" artifacts from closed churches – first a pipe organ and stained-glass windows, and eventually the exterior of one church and the interior of another to build a new-old building.
So how did he end up in Austin? "The Holy Spirit invited me and brought me here," he said.
At the recommendation of some of his parishioners, Father Jamnicky visited the Texas Hill Country in 2013. Fast forward to 2017, the year after Father Jamnicky retired. He returned to the Diocese of Austin to help out local parishes over the winter. With encouragement from friends and family, in November 2018, he permanently moved to Georgetown.
He helps around the diocese celebrating Mass and hearing confessions at many parishes and helping with retreats.
On May 10, Father Jamnicky and his classmates got together in Chicago to celebrate their jubilee. On May 14, he celebrated Mass at St. Patrick Parish in Hutto, and he requested that yet again the Knights of St. Peter Claver and the Knights of Columbus serve together, intermingled. Later in May, many of his Chicago parishioners joined him for a celebration at St. Raphael the Archangel Parish.