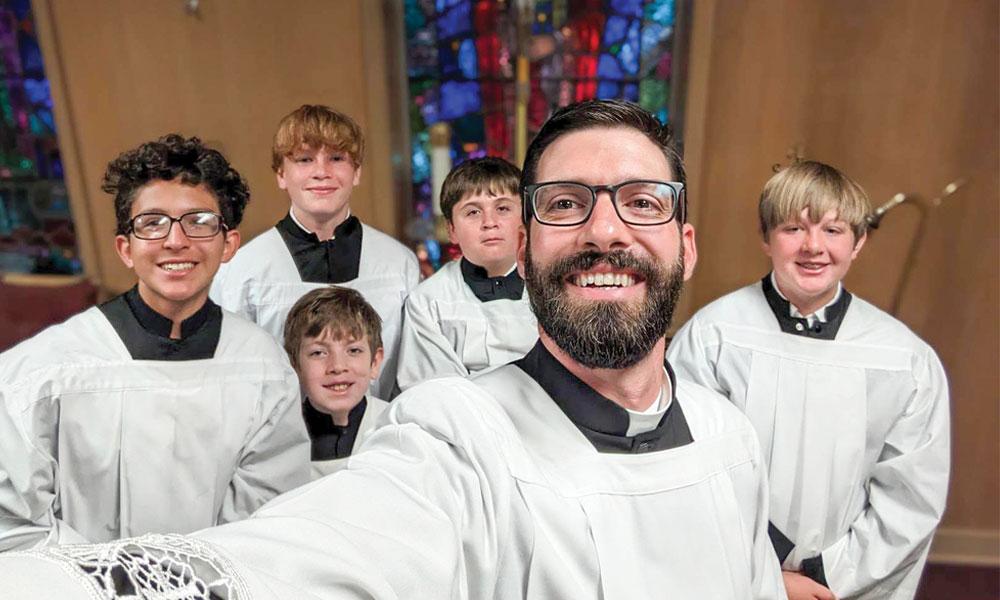 Photo courtesy of Ladd Spears
---
Evangelization in the classrooms, hallways of Catholic schools
Catholic schools educate students of all faiths; in fact, in the Diocese of Austin, nearly 20% of the student population in our Catholic schools is non-Catholic. When a family chooses Catholic education for their children, even if they are not Catholic, they understand that the faith is not only taught but also lived in our schools.
"Catholic schools are a ministry of the church, as they seek to form students academically and in the faith. The goal of Catholic education is not only to introduce the person of Jesus Christ to our students, and the greater Catholic school community, but also to cultivate in them a desire to have a personal relationship with him," said Misty Poe, superintendent of Catholic schools in the Diocese of Austin.
One recent example of this happened at Bishop Louis Reicher Catholic School in Waco. During the Easter Vigil Mass in April, nine students from the school were received into the Catholic Church at St. Louis Parish in Waco. 
Michael Pennell, head of school at Bishop Reicher, credits the Holy Spirit, first and foremost, with the inspiration of these students to join the church. 
"As early adolescents, they bring what all junior high kids bring to learning: curiosity, interest in new things, questions about what their lives mean and what their futures hold," Pennell said. "They also happen to be a very spirited bunch. The Holy Spirit had a lot to work with already!"
Ladd Spears, a seminarian studying to be a priest for the Diocese of Austin, served his pastoral year at St. Louis Parish, which is right next door to Bishop Reicher Catholic School. Father Ryan Higdon, pastor of St. Louis, asked Spears to assist with the faith formation of the middle schoolers who were seeking more information about joining the church. During the following months, Spears led the students in weekly Rite of Christian Initiation for Adults (RCIA) sessions and provided guidance for their faith journeys. 
"One of the common things that I heard from the guys was the fact that they're in a Catholic atmosphere, a lot of their friends are Catholic, so part of their motivation was wanting to be involved and identify with their friends," Spears said. "I think they had a general desire for a camaraderie based on something more substantial than just playing football together or just being classmates together." 
Last fall Spears and the other individuals charged with leading RCIA made it a point to talk with the parents of the students as well. They discussed the students' interest in Catholicism and received the parents' permission for the students to take the classes and become Catholic. The parents also assured the group of their support (such as driving them to church activities and Mass). 
Spears said the students were inspired by several individuals in their decision to seek more information about becoming Catholic. He specifically mentioned one eighth grader who had been expressing his desire to become Catholic for two years. 
"He was pretty open about that with his classmates, and I think that his boldness … might have given some other guys a little bit of courage to step forward as well," Spears said.
Pennell said Spears, as well as Dominican Sister Maria Francisco Molina, who teaches math and religion, and Father Miguel Flores, the associate pastor of St. Louis and a Latin teacher at Bishop Reicher, were also sources of inspiration for the students. 
"With these teachers (priest, seminarian, sister), being a faithful Catholic was practically part of their DNA," Pennell said. "I think authenticity of faith … can be irresistible to a young person who asks himself: 'Who might I become?'"
Every Wednesday, Bishop Reicher students attend the all-school Mass together. Spears said serving at Mass has been a draw for many of the students. Of the nine students who became Catholic, seven of them were very interested in altar serving. Thus, Spears recently trained them to be altar servers, and they enjoy it, he said. 
Pennell intends to offer more options for students who desire to dive more deeply into the faith. 
"We plan to continue in this spirit with a renewed approach to classroom management in junior high. We are adding an elective class next year in high school that will give students an opportunity to learn more about the Catholic faith especially by tackling the hard questions posed by our culture," Pennell said.
---
Mary-Catherine Scarlett is a parishioner of St. Louis Parish in Waco. She came to Texas by way of Dallas, where she earned a bachelor's degree in psychology from the University of Dallas. She enjoys spending time in nature, writing, reading and Irish dancing.