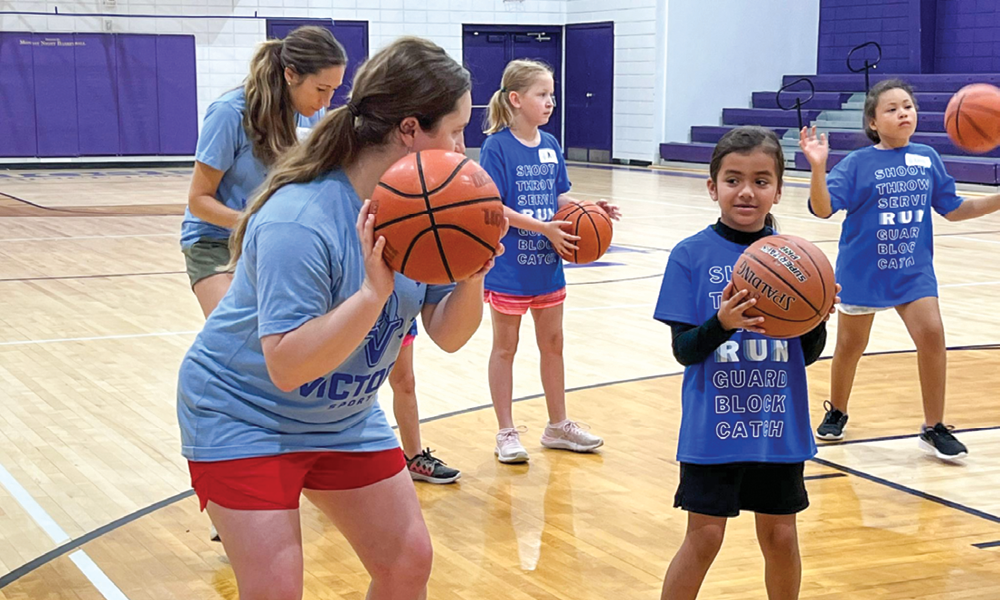 Photo courtesy of Victory Sports
---
Victory Sports brings Brazos Valley families together in virtue
After a disappointing loss, the Saints volleyball team re-evaluated their priorities. Joe Karasek, a parishioner at St. Anthony Parish in Bryan and volunteer coach for Victory Sports, wrote examples of potential priorities such as "exercising," "growing as a team" and "being better than the other team."
"Daddy laid out these pieces of paper on the stage," recalled Anna, his 11-year-old who is on the team. "And we each got to take turns … to pick three things that we thought were the most important. The results were having fun, learning about God and our faith and encouraging our teammates and becoming a team."
For Robyn Romansky and Paul Rieger, founders of Victory Sports, this is a natural way to live out the faith. 
"We all see sport as the perfect gymnasium to grow virtue," Romansky said.
Victory Sports, an arm of the Red-C Apostolate based in Bryan/College Station, is a recreational youth sports program with baseball, basketball, volleyball and flag football leagues for children in grades 1-6. With cooperation from local parishes in the Bryan/College Station area, Victory Sports forges a strong Catholic community — at practices, where families mingle, at championship weekends, at Masses and beyond, as athletes invite each other to their home parishes and plan to stay connected even after the season is over.
In the late 1980s and early 1990s, Rieger, a parishioner of St. Joseph Parish in Bryan, organized basketball tournaments for altar servers — events that drew Catholic families together. Although he had to step away from this program as life responsibilities increased, Rieger still had "a seed in my mind" to start another Catholic youth sports league. 
As an umpire and referee in sports at the high school and collegiate level, Rieger has been disappointed by the overly competitive atmosphere and the lack of charity he sees both on the field and in the stands. 
"We have to change the trajectory of that," Rieger said.
During a discussion about underwriting a program for the Red-C Apostolate, Rieger shared his vision for a Catholic youth sports league and soon discovered he was not the only one with a passion for bringing Catholic values into the arena of sports. 
Enter Robyn Romansky, a parishioner of St. Mary Catholic Center in College Station. As an undergraduate student, she worked as a statistician for the Texas A&M women's volleyball team. In 2001, she was hired as technical coordinator for the 2004 Olympic team in Athens. After this, she worked at A&M again for several years. With this experience, as well as a master's degree in business administration and experience homeschooling (and occasionally coaching) her children, Romansky was the ideal candidate for the position of director of Victory Sports. 
Most importantly, she is passionate about her faith. 
"Our Catholic faith is all-encompassing," she said.
Victory Sports is a program designed to be carried out at the parish level. Girls' and boys' teams are divided into two age groups: grades 1-3 and grades 4-6. Volunteer coaches run practices on Friday evenings at local parishes, where they implement skills training and religious education based on lesson plans provided by Victory Sports. 
"Victory Sports made it easy on the coaches," Joe Karasek said. 
Last fall, Joe Karasek coached volleyball for a team of girls in grades 4-6. His 14-year-old daughter Ellie ran warmups, and his 16-year-old son John also assisted. Joe's wife, Katy, coordinated with the other families on the team. And his daughter Anna was a member of the team.
During water breaks, "We would … sit there and talk about the virtues and how they applied to sports and how they applied to life in general," Joe said. To ensure the lively discussions would not take up the entire practice, he used "a timer so that we knew to get back to practice."
Ellie said, "When we're working on … drills, we throw out those virtues and use them, like: be obedient to your coach or trusting your other teammates." 
A highlight for the Karasek family was the Championship Mass celebrated at St. Anthony Parish in Bryan.
"Five of the kids carried up the gifts for the offertory," Katy said.
"Including me!" Anna chimed in. "It was really cool to … go to St. Anthony's with my whole team." 
Rieger and Romansky said Victory Sports is designed to form a "thick community," which is something the Karaseks experienced firsthand. After practices ended in the St. Anthony Parish gym, families often stayed much longer, forming strong friendships.
"They were asking what Mass each of the girls went to, to see each other at church," Ellie said.
More than just a sports league, Victory Sports forges spiritual friendships that will likely last far beyond the season.
Victory Sports is open to all — Catholic or non-Catholic. As an arm of the Red-C Apostolate, Victory Sports is funded both by league registration fees and by donors. Parents interested in registering their children may visit www.victoryyouthsports.org. Parishioners interested in bringing Victory Sports to their parish may contact Robyn Romansky at robyn@victoryyouthsports.org.
---
Kiki Hayden has written for Catholic publications since 2019. Her writing about vocations, human dignity and empowerment have appeared in publications such as the Blessed Is She blog and the Young Catholic Woman. She married into a Byzantine Catholic family and became Byzantine rite herself; she is a parishioner of St. Basil the Great Parish in Irving.