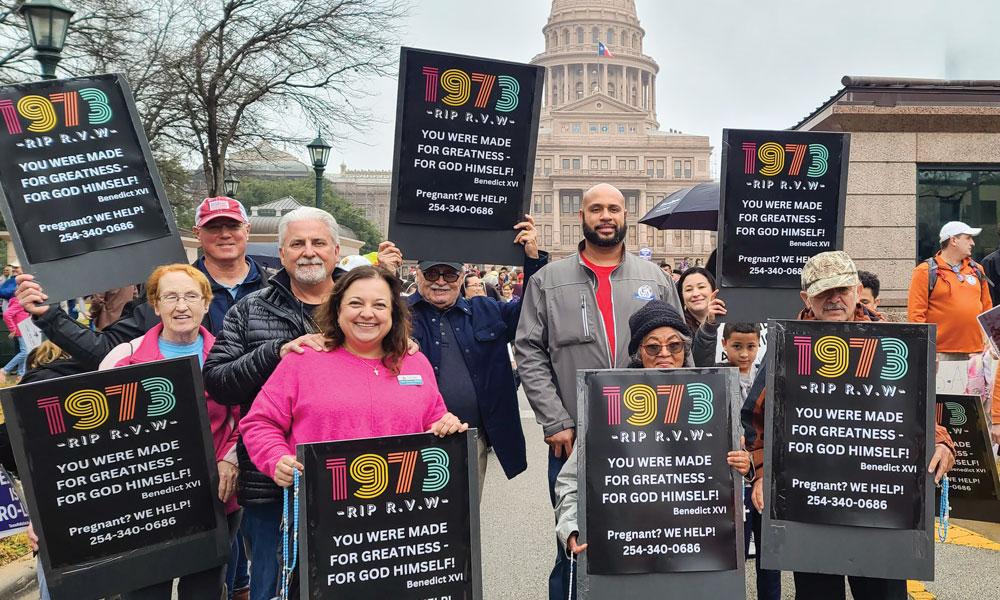 Photo courtesy of Tere Grace
---
The fight for life is not over by any means
"[Life] remains a sacred reality entrusted to us, to be preserved with a sense of responsibility," St. John Paul II wrote in his 1995 encyclical Evangelium Vitae.

As people of faith, we are called to build a culture of life by respecting the dignity of the human person. The U.S. Bishops define a culture of life as protecting, respecting and celebrating life, as we defend the unborn, help the poor, welcome the undocumented and treat our neighbors with love.
Even as the U.S. Supreme Court ruling in Dobbs v. Jackson Women's Health Organization (2022) effectively held that abortion was not a protected right under the Constitution, thereby overturning Roe v. Wade (1973) and Planned Parenthood v. Casey (1992), there remains a great need for the work of pro-life activities and pro-life volunteers throughout Central Texas. While the Dobbs decision has essentially ensured that abortion has become illegal in many states, including Texas, "the demand for abortion is still high and women are still going to facilities for abortion counseling," according to the Central Texas Coalition for Life, a grassroots organization that seeks to end abortion through prayer and fasting, community outreach and education and peaceful prayer vigils. 
In Central Texas, the very clinics that once offered abortion services now have become abortion referral facilities, said Luisa de Poo, the diocesan director of Life, Marriage and Family.
"They are using the space for referring out-of-state abortions, so it continues to be critical to be present to help change hearts," she said. 
Unfortunately, some women are willing to travel across state lines to receive abortion services because they lack knowledge about the many resources available to help pregnant women thrive. Even with the Dobbs decision, de Poo said, "More education is needed about how to affirm the dignity of life in a comprehensive way." 
Pro-life volunteers are needed to make known their presence outside such clinics by praying for and educating pregnant mothers about the dignity of the life in their womb and the resources available to them. This presence is often referred to as "sidewalk ministry."
Currently, 73 parishes across the diocese have either some level of pro-life ministry or the Walking with Moms in Need initiative. To continue building a culture of life, volunteers are needed to promote pro-life activities and programs, to encourage parishioners to participate in sidewalk ministry, and to carry on the work of advocating for the most vulnerable among us, the unborn.
Walking with Moms in Need presents an opportunity for parish communities to support pregnant women and parenting families. During this process, the faithful journey with moms or moms-to-be in difficult circumstances not only by providing material and social support but also by ensuring they have access to and knowledge about available resources in the community. 
The Central Texas Coalition for Life offers volunteer opportunities for sidewalk counselors, who pray outside abortion referral clinics and speak with women before they enter clinics. These volunteers are required to complete a comprehensive training workshop to better help them educate women about their choices. For more information about becoming a sidewalk counselor, visit www.centraltexascoalition.com.
For more on pro-life activities in the Diocese of Austin visit www.austindiocese.org/life. This summer the diocesan Office of Life, Charity and Justice will host Christ Our Hope on Aug. 26 at St. Catherine of Siena Parish in Austin. This annual gathering promotes the dignity of human life at all stages and will offer information on how to promote the totality of the Gospel of Life. Details are available at www.austindiocese.org/christ-our-hope.
---
Kanobia Russell-Blackmon has been a freelance writer for the Catholic Spirit since 2016. She has over 20 years of experience in broadcast news. She now serves as the director of Communications for the Diocese of Pensacola-Tallahassee.