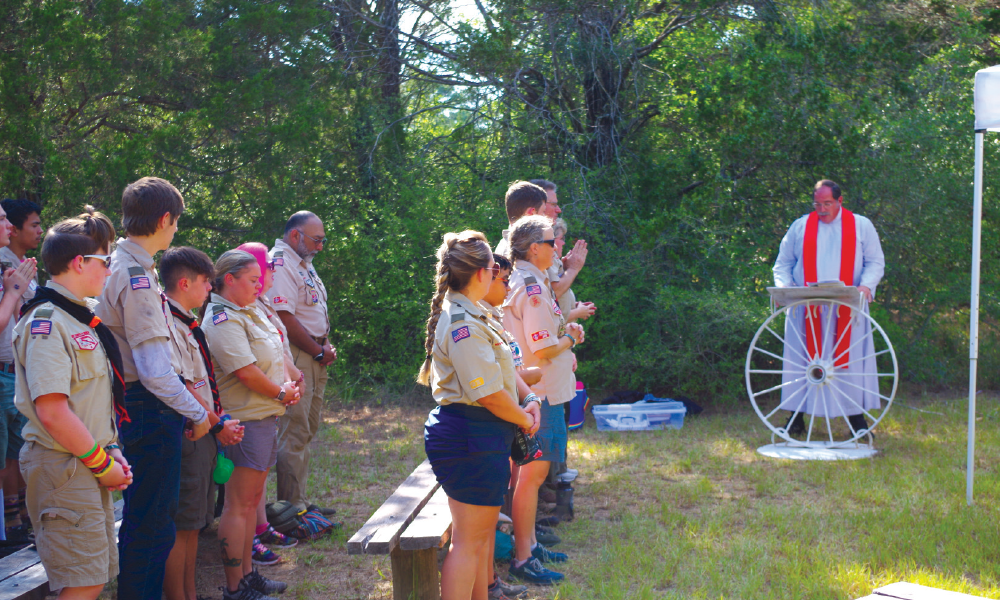 ---
Finding Faith, Family and Adventure in Catholic Scouting
On a warm afternoon this summer, as I swatted bugs and wiped sweat from my forehead, I experienced first-hand the gifts and talents of young people in our church. Despite the heat, over four dozen Scouts and Scout leaders gathered for an outdoor Mass at Lost Pines Boy Scout Reservation in Bastrop.
Father Ed Karasek, pastor at St. Mary of the Visitation Parish in Lockhart, celebrated the Mass and noted that on that feast day of Sts. Peter and Paul, the young people present were "also using their gifts and talents to make a difference in this world." He encouraged the Scouts to "keep building up this church, the Body of Christ."
The Mass was one of five weekly Masses offered in June and July at Lost Pines. For the first time in several years, Scouts and camp staff had the opportunity to attend Mass built into the camp schedule. Organized by the Diocesan Catholic Committee on Scouting (DCCS) and Scouting Chaplain Father Will Rooney, hundreds of young people encountered Christ in the Eucharist in the context of their Scout program. 
The Diocese of Austin is proud to support Catholic youth in Scouting programs including American Heritage Girls, Troops of St. George, BSA, Girl Scouts and others. Father Gerard Gentleman, National Catholic Scouting chaplain and priest of the Diocese of Rockville Centre, said, "Understanding the Scouting program as a ministry for and with youth is essential to evangelization and the fostering of one's vocation."
The faith of a young person does not stop when they leave the parish campus after Mass on Sunday. Their faith development can be supported in unique ways in all facets of their lives.
In July, I met Father Gentleman and other Catholic Scouting leaders at a training facilitated by the National Catholic Committee on Scouting, where we gained insight into the three pillars of Catholic Scouting: faith, family and adventure. He shared how these three pillars are aligned with the church's mission to offer engaging and accessible ways to draw more families and young people into worship, faith formation and other ministries of the parish. 
To minister effectively with youth means that we are all called to accompany them. Parents, teachers, pastors, catechists, neighbors, mentors and peers are each essential in their own setting where they encounter youth. This task can no longer be left to a single ministry leader. To be effective, the church must intentionally celebrate their gifts and meet their needs in all areas of a young person's experience. 
Scouting programs, with their emphasis on the development of young people, are an essential partner in building up the church. Supported by the DCCS, opportunities for Catholic patches, emblems and awards are available for all scouting organizations to teach and celebrate the faith. Other local resources include training for adult Scout leaders, an annual family retreat day and other events. 
Family, faith and adventure serve as guiding principles and reminders to celebrate the young people of our church. With these pillars, and in each of these settings, we can provide the support for our young people to live as disciples of Christ.
---
Adults interested in supporting Catholic Scouting in the Diocese of Austin are invited to get involved by subscribing to the DCCS email list, joining a quarterly DCCS meeting or attending the annual Scout Recognition Mass at St. Theresa Parish in Austin on Oct. 15. More information on those and additional events may be found at austindiocese.org/scoutingevents.
---
Alison Tate is honored to support Catholic Scouting in her role as secretariat director of formation and spirituality at the Diocese of Austin. She, her husband and two sons are parishioners of St. Theresa Parish in Austin.