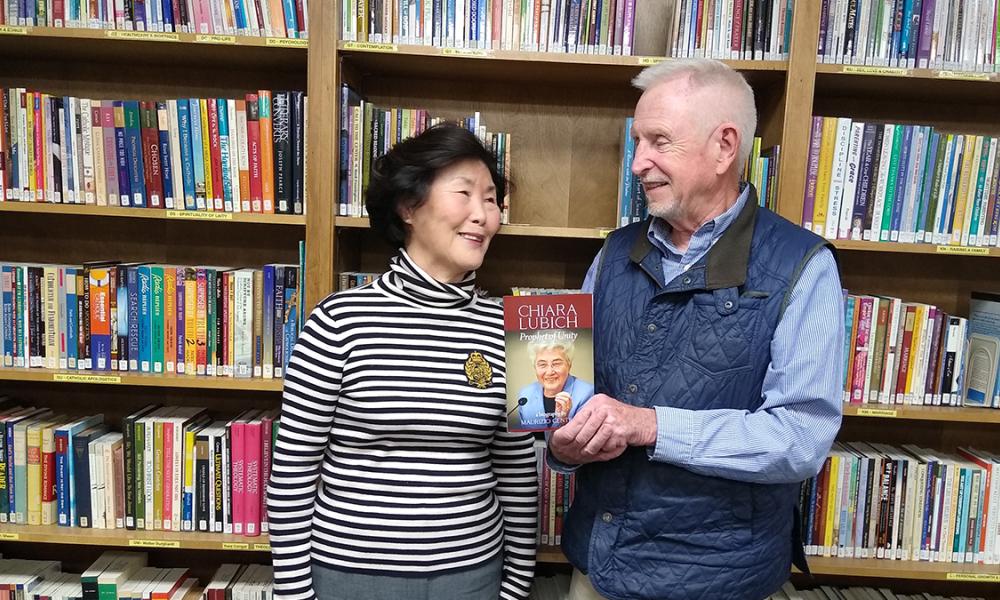 ---
The Focolare Movement Seeks to Live the Gospel in Concrete Ways
"Have you seen the cube of love?" asked Rose Schmitz, a parishioner at St. Thomas Aquinas in College Station.
Her friend Connie Carpenter, also a parishioner at St. Thomas Aquinas, tossed a small foam cube on the table. Each side had a saying, such as "Love your enemy" or "Share the other's hurt or joy." After rolling, the cube landed on "Be the first to love."
Schmitz explained that whenever there is division in the home, reconciliation is important. "It doesn't matter who is the first to apologize," Schmitz said.
The "cube of love" is one of many spiritual tools provided by the Focolare Movement. Founded by Chiara Lubich in Italy during World War II, Focolare is a lay movement inspired by the words of Jesus, especially his prayer "May they all be one" (Jn 17:21). Members of the Focolare Movement in the Diocese of Austin live the charism of unity and love through respectful dialogue, acts of kindness and deep friendships. The best way to experience Focolare spirituality is by participating in community.
How it started
During World War II in Italy, Chiara Lubich lived in an apartment with a few other women. In her book "May They All Be One," she wrote, "We looked around at all the ruins and asked ourselves: 'Is there anything that does not pass away?" They discovered that God was the only ideal who would endure forever.
Lubich and her companions began to live a radical way of life. They shared everything they had with those in need, performing many acts of love for each other and the community.
"Chiara said that if you have two coats, you can't wear two coats. One of those coats belongs to someone else," Schmitz said.
Over time, many people were inspired to live the Gospel alongside Lubich and her companions. The young women reflected on the "Word of Life," the words of Jesus from the Gospel. What started as an informal gathering of young women eventually grew into a worldwide movement — a movement still centered on living the Word of Life. Every month, Focolare throughout the world reflect on a verse from the Gospel. They discuss this verse — and how they live the verse concretely in their daily lives — in local Word of Life groups.
With Vatican approval, the Focolare Movement was officially called the "Work of Mary." People of other Christian denominations and other faiths have also been inspired to follow the words of Jesus through the Focolare Movement.
Living the Gospel in concrete ways
When asked about the charism of the Focolare Movement, Schmitz and Carpenter smiled at each other and in unison responded, "Unity."
"Collective spirituality doesn't eliminate anyone," Carpenter said. For Carpenter, this includes people of differing religious and political beliefs.
"Jesus is still in that person," Schmitz added.
Focolare spirituality teaches that suffering is always an encounter with Christ on the cross. "Jesus forsaken … was [Lubich's] spouse," Carpenter said.
"Love Jesus," Schmitz said. "He's gonna point to the neighbor."
Schmitz and Carpenter emphasized the contributions of the youth in the Focolare Movement. Recently, the children in the Bryan/College Station Word of Life group participated in Habitat for Humanity — not just to do good deeds, but to love those they served. Focolare youth in other countries have collected donations for victims of war and violence.
"Youth have the energy to change things that are not right. Look in your local communities … where is there a need for God's love?" Schmitz said.
The Focolare also support each other through close friendships, such as that of Jin Yun and David Peterson, parishioners at St. Luke Parish in Temple. Sitting in the parish library founded by Peterson, they explained how the Focolare Movement has connected them with many people — in their parish and throughout the world.
"He's my best friend," said Yun, pointing to Peterson. The two met through the Focolare Movement in 2006, and together they now coordinate the local Word of Life group.
According to Peterson, Yun is often the "first to love" by inviting others to Bible Study, to parish gatherings, and even to her home for tea. "We don't give up on people," Peterson said.
In addition to building up St. Luke's community, Yun and Peterson travel the world. Together, they visited a shrine to the Korean martyrs in South Korea, Yun's home country. Wherever they go, they practice "acts of love" – Focolare style.
"We have to have a hunger/thirst to do something good … and you have to practice," Yun said. "Love another." Daily acts of kindness and inclusion – that's how Yun finds "Jesus forsaken" and "Jesus in our midst."
The spirituality of unity knows no boundaries among the Focolare. Judy Henschen, a parishioner of St. Mary Cathedral, and Tony Sawan, an Antiochian Orthodox Christian, coordinate the Word of Life group in Austin together.
Sawan grew up in Lebanon alongside other Orthodox Christians, Melkite Catholics, Maronite Catholics and Muslims. "As a kid you don't see those divisions," he said via videochat. As a child, he told his mother, "One day I'm going to unite the churches." After experiencing much loss as a result of the war in Lebanon, Sawan was introduced to the Focolare Movement. Today, Sawan is a Focolarino – a layperson who has taken vows to God to live out the Focolare spirituality of unity.
"Focolare means the hearth, the family fireplace," Henschen said via videochat. "To experience the Focolare Movement is to experience the love of a family."
She said the best way to learn about the Focolare spirituality is to visit one of the gatherings, e.g. a Mariapolis (summer family gathering) or Word of Life monthly meetings, and meet the people who live it.
Henschen and Sawan in Austin, Schmitz and Carpenter in College Station, and Yun and Peterson in Temple all emphasized that Focolare spirituality is best experienced in community. "You need to do it in unity because that's what makes it delightful," Peterson said.
For more information, visit the U.S./Canadian version of the Focolare website at www.focolare.us.