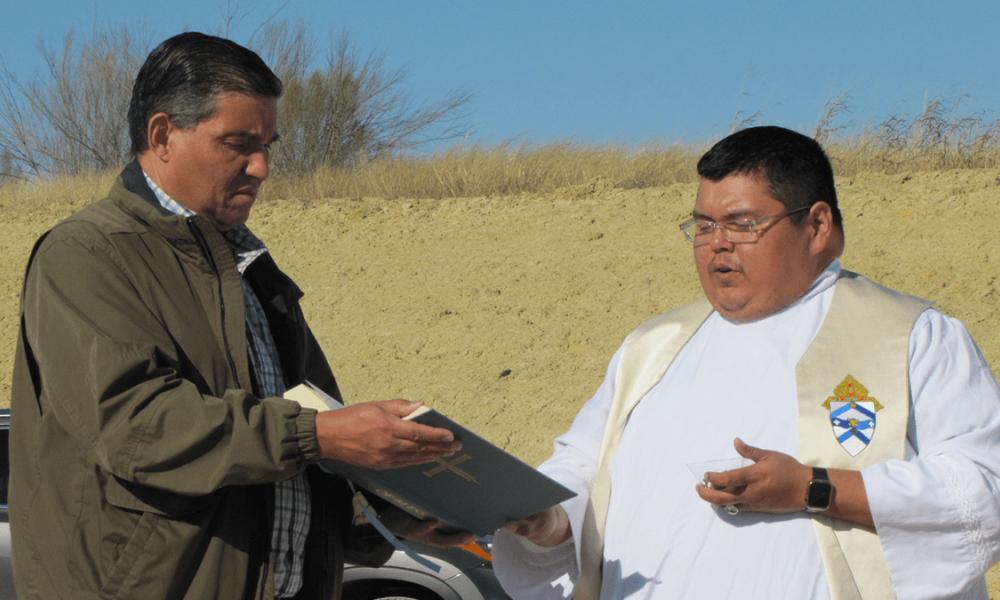 ---
St. Joseph in Manor is Making Progress Toward Building a New Church
Parishioners at St. Joseph in Manor have waited for a new church for 25 years, and it will soon become a reality, thanks to Bishop Joe Vásquez' Austin Eastern Ring Project.
Last June Bishop Vásquez broke ground and blessed the land where the new church will be built at 10104 Hill Lane. The 25 acre plot, which the parish previously purchased, sits adjacent to Manor High School.
On Jan. 30, parishioners buried St. Benedict medals at each foundation corner. Tradition maintains that St. Benedict protects from curses, evil, vice, diseases and preserves good health. The reverse side of the medal carries the message Vade retro Satana ('Be gone, Satan!'). Construction on the new church is now well underway.
Population growth in southeastern Travis County has placed great demands on the three small parishes that have ministered to predominantly Hispanic Catholics in that part of the county for more than a century. St. Joseph Parish in Manor, Santa Barbara Parish in east Austin and San Francisco Javier Parish in southeast Austin currently have a combined 1,400 seats to serve some 52,000 Catholics now residing on Austin's eastern edge, with more arriving every day. Unfortunately, the parishes do not have the financial resources to build sanctuaries to meet their present and future needs.
Bishop Vásquez has committed to providing $10 million from the Encountering Christ Campaign to help these parishes construct the needed church space.
Patrick Baker, the diocesan director of Construction and Planning, said the diocesan contribution will go to building the structures, and each parish will provide liturgical furnishings such as pews, altars, ambos, etc.
To use funds more efficiently, Baker explained that all three churches would use the same basic design prepared by CasaBella Architects and constructed on a rolling start by the same builder under a single contract. "Although the front façade of each church is unique to each parish, the floor plan is identical for all three churches," Baker said. "This was done to standardize a design to minimize both design and construction costs."
Father Henry Cuellar Jr., administrator of St. Joseph Parish, said the campus will eventually include the church, a parish hall and modular buildings for functions such as religious education and a rectory.
He added that the city of Manor is looking to improve Hill Lane to ease access to the new church.
The Catholic Church first came to Manor, "one of the oldest Mexican settlements" in Central Texas known as "El Fortin de Santa Anna," in 1876 and established a mission known as St. Mary. Initially, priests from Our Lady of Guadalupe Parish in Austin and later Jesuits from Nuestra Señora de Guadalupe in San Marcos, now St. John the Evangelist, ministered to Catholics in Manor and surrounding areas.
In 1912, Oblate priests assumed responsibility for Manor Catholics and by 1916 had built a church named St. Joseph. The first chapel built in 1916 was blown away by a storm soon after construction. The community quickly rebuilt. The earliest families were Reyes, Gonzales, Lara, Uribe, Rosalio and Samudio. The present church was constructed half a mile from the old church on Old Highway 20 in 1986. Today the parish is a multi-ethnic community.
Parishioners intended for the 1986 church to be a temporary home. The vision was to build a new church on the same property. They have been raising funds for 25 years "little by little" to construct a new church, Father Cuellar explained. The parish will the money raised thus far toward the $375,000 needed to purchase furniture, fixtures, pews, altar and other items.
In addition, Father Cuellar said the goal was increased to buy stained glass windows for a total of $750,000. Two and a half years ago parishioners accelerated their fundraising efforts with breakfast taco sales after Sunday Mass, second collections and the first-ever Cowboy Gala held last October. As of mid-February, these initiatives have brought in $684,000.
"It speaks to the desire of the people here to have a new church," Father Cuellar said of the successful fundraising. "They're hard workers, and they're generous and very committed to the Catholic faith."
Father Cuellar said the successful fundraising during a debilitating pandemic speaks volumes about the people's passion. "The rebound was amazing. They want this church. It speaks about their commitment. Masses are full." He does not doubt the parish will raise the necessary funds. Moreover, once they move into their new church, the parish plans to sell the current property.
The priest pointed out that "more and more families are coming." Multiple apartment projects and numerous new neighborhoods are being built. The new Tesla plant, expected to create tens of thousands of new jobs, is down the road on SH 130. Also, a new semi-conductor factory in nearby Taylor will bring 2,000 high-tech jobs.
"We are beginning to see and deal with the change from a small rural parish to a bigger suburban one. More and more new families are coming. The town of Manor is growing," Father Cuellar said.
Less than three years from his priestly ordination, Bishop Vásquez appointed Father Cuellar, who grew up in Manor, as parish administrator. The Eastern Ring initiative, Father Cuellar said, "speaks to the heart of our bishop — he cares for the people. It shows he is functioning from a true pastor's heart and speaks highly of the pastoral care of our bishop."
For more information about St. Joseph Parish in Manor, visit sjmanor.org or call (512) 272-4004.