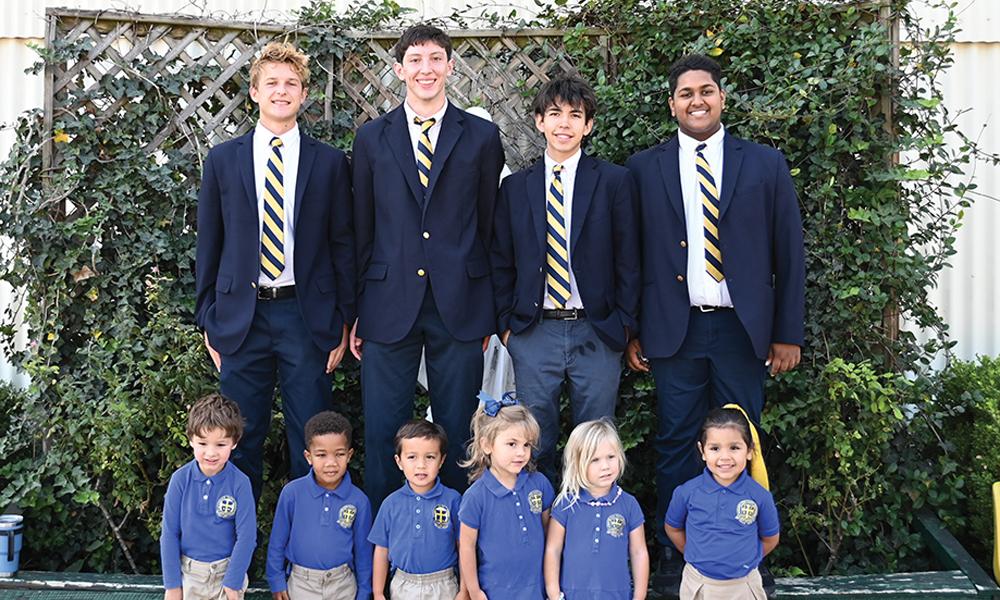 Photo courtesy of St. Mary's
---
Taylor Celebrates St. Mary's 2023 Graduating Seniors
It was August of 1896 when St. Mary's Catholic School opened in Taylor with 80 students under the tutelage of Dominican Sisters. It's the oldest private school in Williamson County, and this year it is celebrating a big milestone: the first graduating class since 1966. The whole community is celebrating this milestone and the four young men who make up the class.
"We are all very excited to see this group of students graduate 57 years later. It will be an historical event that our entire school and parish is looking forward to witnessing," said Tessa Streit, the school's director of Development and Marketing.
Not only are school officials and families proud of these students' accomplishments, they are proud of the young men they have become as they learned not only academics but also Catholic teachings and values. St. Mary's academics are guided by an accreditation process identified by the Texas Catholic Conference of Bishops. Students learn to apply the wisdom of the past to the problems of today through the lens of our Catholic faith. 
"Our senior class is very selfless. They're always willing to volunteer and offer the gift of service in any way possible," Streit said. "They are responsible for announcing our Virtue of the Month winners after Mass each month and enjoy recognizing the other students for their virtuous accomplishments." 
With a mission to further God's kingdom through faith, academics and service and a vision to educate the next generation to uphold Gospel teachings, St. Mary's focuses not only on reading, writing and arithmetic but also wisdom and virtue centered on Christ, all while growing the Body of Christ, young and old.
"Every Monday seniors go to our Early Learning Center during their lunch [break] to read to our youngest students," Streit said. "These seniors have been an excellent group leading our school this year as they lead by example in all that they do, and our younger students look up to them. The seniors have even lovingly named themselves and the [pre-Kindergarten] kids 'Book Ends' of our school." 
Through fellowship and evangelization like this, St. Mary's has become an integral part of Taylor and surrounding communities. The school and the parish have come together as one family. Providing education for pre-Kindergarten through 12th grades means today's students and yesterday's generations have a home to come back to. Many of St. Mary's graduates now have children, grandchildren and even great-grandchildren attending the school.
"Three of our graduates have been at St. Mary's since fifth grade," said Streit. "We have a long line of families with alumni. In fact, one of our graduate's grandpas is a St. Mary's alumni." 
St. Mary's is a Catholic classical school and offers a liberal arts education, which is a literary approach to learning marked by the Great Books tradition, an extensive music education, a Latin-centered curriculum, an engaging art program, and physical education and sports to educate the mind, heart and body. Students also are offered Spanish, band, choir, yearbook, robotics, music lessons, cooking and competitive sports teams in soccer, volleyball, basketball, cross country, football, golf and cheer. Faculty and staff attend Mass with the students, and many proudly hold advanced degrees yet acknowledge that parents are the primary educators of their children. 
"St. Mary's has a 127-year legacy of deep parent involvement," said Heidi Altman, the Head of School at St. Mary's. "Many of our current parents were students here, and the love and faithfulness that are present are truly a blessing for our students ensuring they will have deep roots when they leave." 
The school is also a member of the Chesterton School Network, which was inspired by St. John Paull II and offers all levels of National Honor Society memberships, PSAT and SAT prep, AP and Dual Credit classes, and college and career counseling. A strong faith formation is shaped in students through daily religion and theology classes, sacramental preparation, and Eucharistic Adoration and reconciliation in addition to Mass. 
"We plan to continue producing graduates for many years to come," Streit said. "Many of our families now have their children enrolled in the younger grades because of the success of our high school and this amazing group of graduates."
A baccalaureate service is planned for May 21, and graduation will be held May 25 following Mass. For more information, visit www.stmarystaylor.org or call (512) 352-2313.
---
Carla Smith has been a writer for Catholic Spirit since 2016. A long-time Austinite, she and her husband are members of Santa Rosa Parish in Andice. They enjoy spending time with their daughter and their three dogs, as well as fellowship, golf and football.