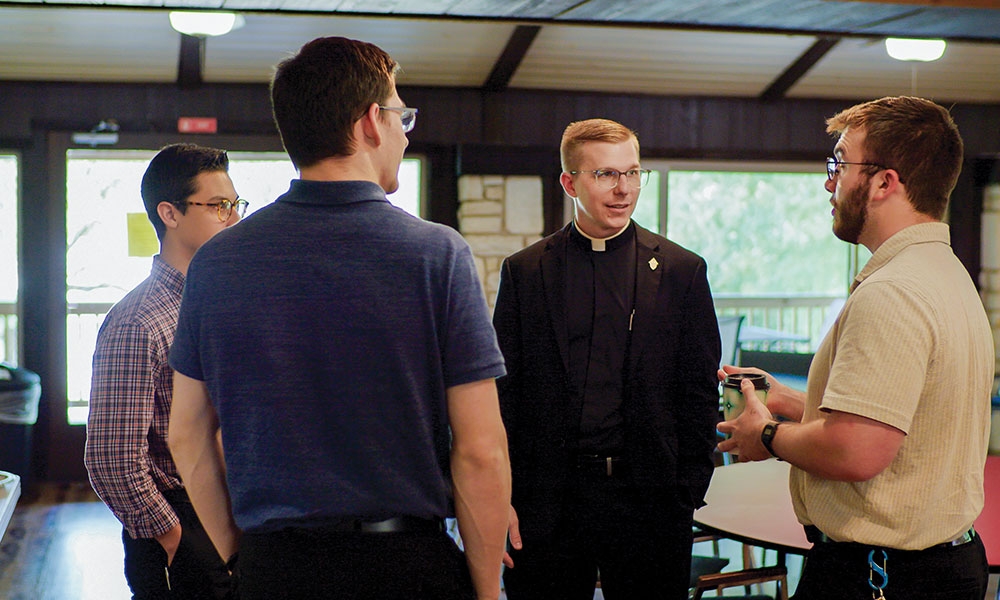 Father Greg Gerhart, the diocesan director of Vocations, works with men discerning a call to the priesthood. Photo courtesy of CAST Media
---
CSA gifts help bring more men to formation
When a record 12 men entered seminary formation for the Diocese of Austin this fall, it was cause for celebration — especially after spring came and went without a single man ordained to the priesthood.
"This is our biggest recruitment year — our biggest class of incoming seminarians — but it needs to be our smallest class going forward," said Father Greg Gerhart, vocation director for the diocese. 
Over the next 10 years, the diocese will likely see up to 30 current pastors retire, he said. Although having 42 men in all stages of formation this year is an impressive number for a diocese of any size, more men are needed to keep up with the growth of the diocese.
"We need a lot of guys to hear the call and answer the call," Father Gerhart said.
The Catholic Services Appeal (CSA) is a major source of funding for vocations, with nearly half of the CSA's annual budget directed toward clergy formation. CSA gifts help fund seminarian education, and they support programs such as retreats and days of discernment for both men and women, as well as vocation resources for parishes, schools and parents.
"It takes about $50,000 to $60,000 per year to educate a seminarian," Father Gerhart said. Considering that a man who enters the seminary directly out of high school can spend up to nine years in formation before his ordination day, the costs the diocese incurs add up quickly.
The Diocese of Austin sends seminarians to receive their education and formation at St. Mary's Seminary in Houston and Notre Dame Seminary in New Orleans, which are major seminaries, and at Holy Trinity Seminary in Irving and Saint Joseph Seminary College in St. Benedict, Louisiana, which are for college-aged men. Some men are also selected to complete their theology studies at the Pontifical North American College in Rome.
"Formation is not just getting an academic degree but helping someone experience a deeper conversion to the love of Christ so that he will be able to give that love, to give that mercy and to give that grace to others as a priest," Father Gerhart said. "There's no shortcut to the process, to the journey of growing in holiness."
Kevin Kelly entered the seminary at age 18, but first felt called to the priesthood after making his first holy Communion. Serving as an altar server at St. Martin de Porres Parish in Dripping Springs only strengthened the feeling. 
"Just watching father at the altar, I felt drawn to that," he said. "I wanted to do it myself."
Knowing that people from throughout the diocese are supporting him — financially through the CSA as well as with their prayers — helps Kelly stay grounded when his studies are difficult.
"It rekindles that desire to serve the diocese and the people in the diocese," said Kelly, who is in his fourth year at Holy Trinity Seminary. "Seminarians run on prayers, and I do mean that."
Father Gerhart spends half of his time walking with Kelly and other seminarians in priestly formation, and the other half helping men discern the priesthood. He regularly visits seminaries, parishes, Catholics schools, campus ministries and young adult groups, as well as the programs the Vocations Office hosts each month.
If not for the CSA and staff members supporting his work and vocations programming, Father Gerhart is unsure how much time he would have to talk to groups and have one-on-one conversations with people. 
"That's what bears the most fruit," he said, "helping people realize that whenever God calls us, it's not because he wants anything from us but because he wants everything for us."
---
Darci Swisher is a freelance writer who has worked with the Catholic Spirit for several years. She and her husband live in Michigan.