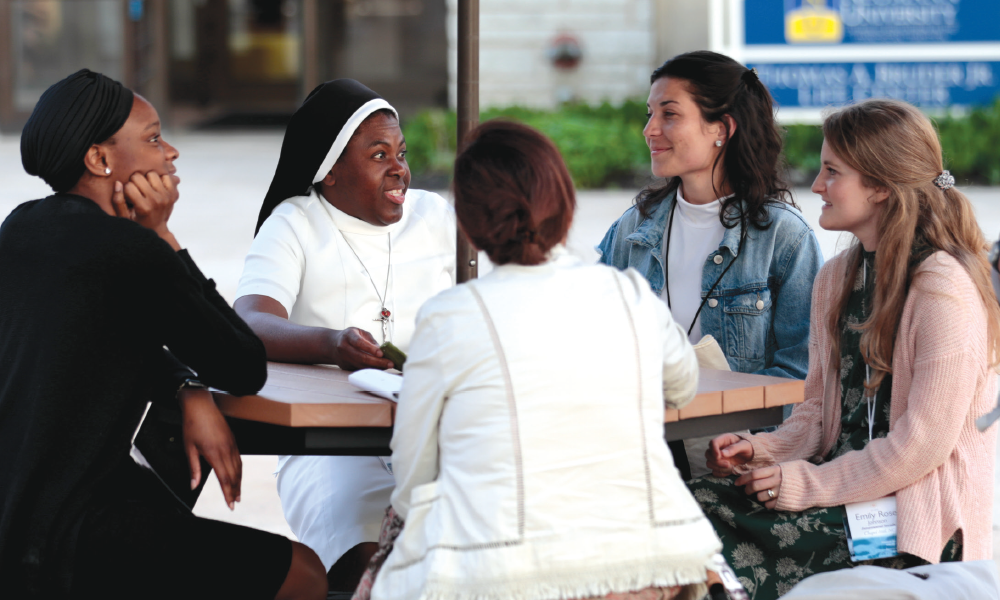 ---
Given Conference Celebrates Gifts, Strengths of Catholic Women
I was starting to believe that all Catholic women's gatherings were the same. That is, until I attended the GIVEN Forum earlier this year as a mentor.
What originally began in 2016 as a one-time event for young women, ages 21-30, and consecrated women has blossomed into an annual event with both lay and consecrated women attending. These young women come to GIVEN seeking leadership training, faith formation and mentoring to better understand and pursue their particular mission and vocation. This isn't your ordinary Catholic women's event.
The week-long forum was hosted by Neumann University in Philadelphia and featured talks by lay and religious female Catholic leaders; professional leadership training; identification of gifts and strengths; networking; opportunities for prayer, sacraments and spiritual direction; support and guidance to implement a post-forum action plan; and a year of one-on-one mentorship with an established Catholic female leader. I am honored to serve as one of those mentors in the "Catholic professional" category.
We were encouraged to set our phones aside, log off social media and fully immerse ourselves in a week meant to pour resources into young women that want to make a marked difference in the church. Other gatherings of Catholic women typically get the encouragement part right. We leave feeling empowered and energized to re-enter our lives back home. But GIVEN takes it a big leap further. Each young woman applies to attend with a detailed action plan (something she wants to initiate in her home diocese or parish) and it must be completed within a year, all while being accompanied by a Catholic female mentor for an entire year.
I often share in my book and on social media about the importance of intergenerational mentorship among women. The experience of one and the youthful optimism and action of the other combined help create a stronger church — a stronger community.
In St. John Paul II's 1995 "Letter to Women" he writes, "Necessary emphasis should be placed on the 'genius of women,' not only by considering great and famous women of the past or present, but also those ordinary women who reveal the gift of their womanhood by placing themselves at the service of others in their everyday lives. For in giving themselves to others each day women fulfill their deepest vocation. Perhaps more than men, women acknowledge the person, because they see persons with their hearts. They see them independently of various ideological or political systems. They see others in their greatness and limitations; they try to go out to them and help them."
That line, "they see persons with their hearts," gets me every time. Not only did each of us in attendance feel seen by one another, but by the Father. In his divine providence, he placed us together — married and single, lay and consecrated, young and experienced. I knew it was going to be a good week when I showed up to board my plane at DFW and ran into Sister Juanita, a Carmelite. We immediately hit it off. It was a special joy to see several of our own Dominican Sisters of Mary Mother of the Eucharist in attendance as volunteers at the forum, as well. As I found myself looking at the faces of the young women in attendance as they interacted with more than 25 orders of consecrated women, I witnessed complete and total joy.
There were moments of intense closeness with God (hearing a schola of habited religious sisters singing at Mass will do that to you). There were lunches in the college cafeteria that resonated so loudly with laughter I couldn't help but smile. And there were many more moments of quiet conversations between women of all ages, ethnicities and backgrounds where the whisper and presence of the Holy Spirit were palpable.
It made me wonder, could I replicate this when I came home to Austin? Could I begin to foster a sisterly relationship with the woman sitting in my own church pew? Is it possible to reach the women with babies on their hips, those who are widowed and gray, those single and searching for a vocation or those who simply need a friend and some encouragement that they belong? I believe women's voices not only matter but also that the church desperately needs their feminine genius.
---
I believe the answer is a resounding YES. We need more young women in the Diocese of Austin at next year's GIVEN Forum! Applications to attend for young women (ages 21-30) or mentors (30+) opened on Nov. 1. To learn more, visit giveninstitute.com.
---
Kathryn Whitaker is the author of Live Big, Love Bigger and mom to six and can be found online at kathrynwhitaker.net. She and her family are parishioners at St. Vincent de Paul Parish in Austin.