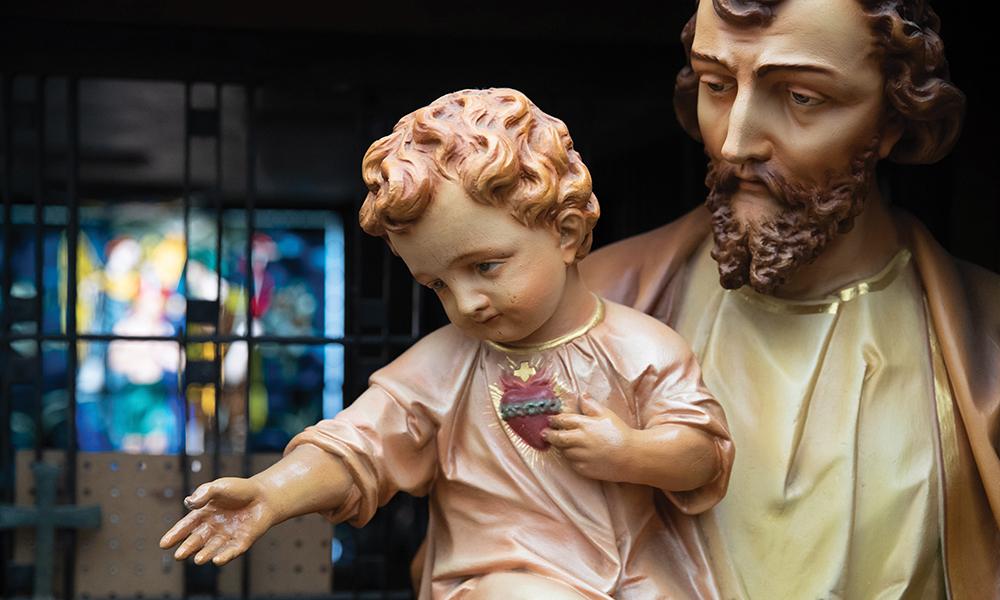 ---
Let Us Celebrate and Pray for Our Fathers and Our Priests
Editor: Bishop Vásquez, soon we will celebrate Father's Day. How is St. Joseph a role model for fathers?
Bishop Vásquez: Throughout his pontificate, our Holy Father Pope Francis has highlighted the life of St. Joseph as a role model for all of us, particularly fathers. One of the first things Pope Francis did was to include the name of St. Joseph during the Mass, and he gave us the Year of St. Joseph. 
Scripturally if we look at the life of St. Joseph, he was a silent man (no words are attributed to him in Scripture), yet he was a man of action. He listened to the voice of God and then responded as when he welcomed Mary as his wife. He listened to the voice of the angel and responded to God as when he took Mary to Bethlehem, where she gave birth to Jesus. He protected Mary and Jesus when Herod tried to kill Jesus. He again listened to God and fled with Mary and Jesus into Egypt. Joseph was always listening and responding to God, thus he is a great role model of how to care for his wife and for Jesus. 
Editor: You recently lost your own father, may he rest in peace. What role did he play in your vocation?
Bishop Vásquez: My father was very important in my vocation. Initially, he was not supportive about me going to the seminary. Since I was his oldest child, he wanted me to enter a profession. It wasn't that he did not hold priests in high regard, but I think he thought the life of a priest was difficult and lonely. He thought I would be happier with a career, a wife and a family. However, as he saw the joy and happiness my vocation brought me, he changed his mind and fully supported me. 
My father loved my mother and the six of us children. He supported everything we did, and he wanted to be present to my mother and his children. As my mother struggled with diabetes near the end of her life, he provided for her and lovingly cared for her. My father's example has helped shape my understanding of my priesthood. His sacrifice, strength and dedication to our family are traits that I value as a priest. Priests are called to be good, loving fathers and to care for the church as a bride and to care for the whole body of Christ. Priests become holy by the sacrifice and love they have for the people they serve.
We are blessed with good, holy priests in the Diocese of Austin. They deeply care for the people who have been entrusted to them. Good fathers fall in love with the people they have been asked to serve. As bishop and as a priest, I want the best for the people of God. And I pray our priests will continue to lead, guide, challenge, console, comfort and pray for all the people they serve. 
Editor: This is the first year in quite some time the diocese will not be celebrating a priestly ordination. What is the state of vocations in our diocese?
Bishop Vásquez: We have been blessed in this diocese with wonderful vocations. For many years, we have had large numbers of seminarians.
This year, for the first time in almost 20 years, we will not ordain a priest. This is a sad moment in the life of our local church, and I think it is a time for all of us — clergy and laity — to ask ourselves: What am I doing to promote vocations?
It is not only the responsibility of the vocations director or the Vocations Office to promote vocations to the priesthood. We also need every priest and every Catholic to be involved in this endeavor.
As I often tell our priests, "You are a vocation director." A priest fosters vocations and encourages young people to consider the priesthood by the way he shares his joy and love for the priesthood.
I also encourage families to pray for vocations, and I pray all parents will be open to the possibility of their children being called by God to serve the church. Ask your sons: do you think God might be calling you to be a priest or a deacon? All of us in the Diocese of Austin are responsible for creating a culture of vocations. Join us to pray for vocations on June 10 at 10 a.m. at St. Louis Parish in Austin.
During February's Project Andrew, we were blessed to have 95 men of different ages who came to learn more about how to discern the call to a priestly vocation. There is no doubt that God is calling people to serve as priests and religious, so we must continue to pray for men to be open to God's call and we must help them hear and understand his call. 
Editor: What is your prayer for all fathers, lay and clergy?
Bishop Vásquez: I pray that God will bless our biological and spiritual fathers. May our fathers and our priests continue to guide us ever closer to God as they follow the example of St. Joseph, a faithful husband to Mary and a caring and loving protector of Jesus. St. Joseph, pray for us! Amen.
---
Bishop Joe S. Vásquez is the fifth bishop of the Austin Diocese, which is home to more than 700,000 Catholics. For details, visit the diocesan website at austindiocese.org.