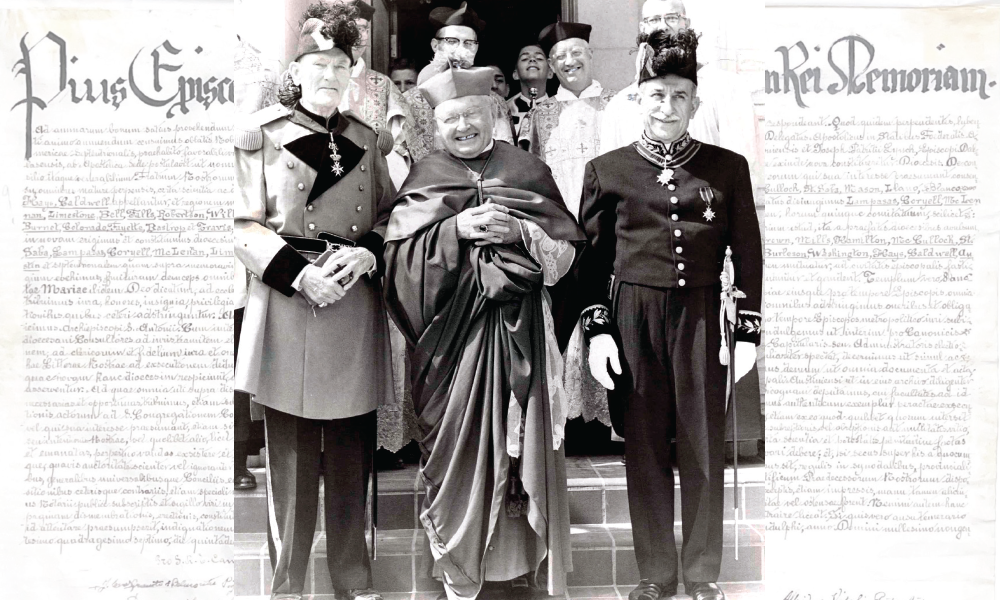 ---
Our Catholic Roots Had Been Firmly Established Long Before 1947
"I say to you, you are Peter, and upon this rock, I will build my church," Jesus says to Simon Peter in the Gospel of Matthew.
On Nov. 15, 1947, Peter's successor, Pope Pius XII signed the papal bull establishing the Diocese of Austin. A few days later, he appointed the first bishop: Msgr. Bishop Louis J. Reicher, who had served as chancellor of the Diocese of Galveston for 29 years.
The Archdiocese of San Antonio and the dioceses of Galveston and Dallas provided the new diocese's territory. The Archdiocese of San Antonio contributed the counties of Blanco, Caldwell, Hays, Llano, Mason,McCulloch and San Saba, and the parts of Bastrop, Burnet and Travis located south of the Colorado River.
From the Diocese of Galveston, Austin received the counties of Austin, Bell, Brazos, Burleson, Coryell, Falls, Lampasas, Lee, Limestone, McLennan, Milan, Robertson, Washington and Williamson and the areas north of the Colorado River from Bastrop, Burnet, Colorado, Fayette and Travis. Finally, the Diocese of Dallas relinquished Brown, Coleman, Hamilton and Hills counties.
Later, Austin paid forward some of these counties to the new dioceses of San Angelo (1961) and Victoria (1989). San Angelo received Brown, Coleman and McCulloch from the Diocese of Austin, while Victoria took the parts of Colorado and Fayette north of the Colorado River.
At its founding, the diocese had a population of 762,383, but today, it has grown to 3.6 million, of whom nearly 700,000 are Catholic. In 1947, there were 56 parishes, 40 missions and 32 Catholic schools (28 parochial and two private). Today, the diocese has 123 parishes and missions and three university centers, as well as 20 Catholic schools.
Clergy and religious
In 1947, the new Diocese of Austin received 86 priests; San Antonio provided 18, Galveston 67, and Dallas one. Today, the diocese has 226 priests. No deacons were present at the diocese's initiation since Rome did not reintroduce the diaconate until 1968. Today, there are 237 deacons serving in the diocese.
Ten orders of religious sisters provided 115 teachers for schools throughout the diocese. The biggest footprint belonged to the Sisters of Divine Providence, who had 42 sisters in the new diocese. Today, we have  several religious orders of women who are praying for us, teaching in our Catholic schools and serving in our hospitals and parishes.
Established parishes
The structure of parishes and their missions was markedly different than today. In 1947, when the diocese came into being, there were only seven parishes, one mission and a university student center in Austin. Our Lady of Guadalupe and San José and the mission Cristo Rey were designated to serve Mexican-American Catholics, while Holy Cross and Holy Family served the Black community. The three other parishes were St. Mary Cathedral, St. Ignatius Martyr and St. Austin, which also oversaw the Newman Center at the University of Texas. Three mission communities also served Travis County and Santa Cruz ministered to Hays County.
Just north of Austin, missions in Round Rock and Leander were attached to St. Helen in Georgetown. Our Lady of Guadalupe in Taylor oversaw St. Elizabeth in Pflugerville. Waco had only two parishes: St. Mary of the Assumption and St. Francis on the Brazos; they oversaw missions in Satin, Cameron, Marlin and Temple. To the east in the Brazos Valley, many parishes and missions were already established, including St. Anthony and St. Joseph in Bryan and St. Mary in College Station. Out west, Catholics were gathering for Mass in the communities of Lampasas, Llano and Mason.
Our first shepherd
Bishop Reicher shepherded the diocese for nearly 24 years. He was succeeded by Bishop Vincent M. Harris (1971-1986), Bishop John E. McCarthy (1986-2001), Bishop Gregory M. Aymond (2001-2009) and Bishop Joe S. Vásquez (2010-present).
Bishop Reicher received his appointment on Nov. 19, 1947. Bishop Christopher. E. Byrne consecrated Bishop Reicher on April 14, 1948, at St. Joseph Cathedral in Galveston. Bishop Byrne had ordained Reicher to the priesthood 30 years earlier at the same cathedral.
Archbishop Lucey installed Reicher as bishop of Austin on May 13, 1948, at St. Mary Cathedral, which Pope Pius XII had designated as the cathedral church for the new diocese.
It was a time before television, as the first station did not open in Austin until 1952, but the historic event was carried live by Brenham radio station KWHI. "This will be an outstanding event in the religious history of Texas," the Brenham Banner Press proclaimed in its issue on May 11, 1948. The governor of Texas, mayor of Austin and a large crowd welcomed the new bishop after the installation Mass. President Harry Truman also sent a congratulatory message.
Perhaps the words of St. Paul strengthened Bishop Reicher as he took the helm of the new diocese: "Keep watch over yourselves and over the whole flock of which the Holy Spirit has appointed you overseers, in which you tend the church of God that he acquired with his own blood." (Acts 20:28)
---
Alfredo E. Cárdenas began as a freelance writer for the Catholic Spirit in 2000, writing histories of parishes. In 2010, Bishop Michael Mulvey of the Diocese of Corpus Christi named him editor of the South Texas Catholic, a publication of the Corpus Christi Diocese. Upon his retirement in 2017, he returned to Austin, where he resumed writing for the Catholic Spirit.