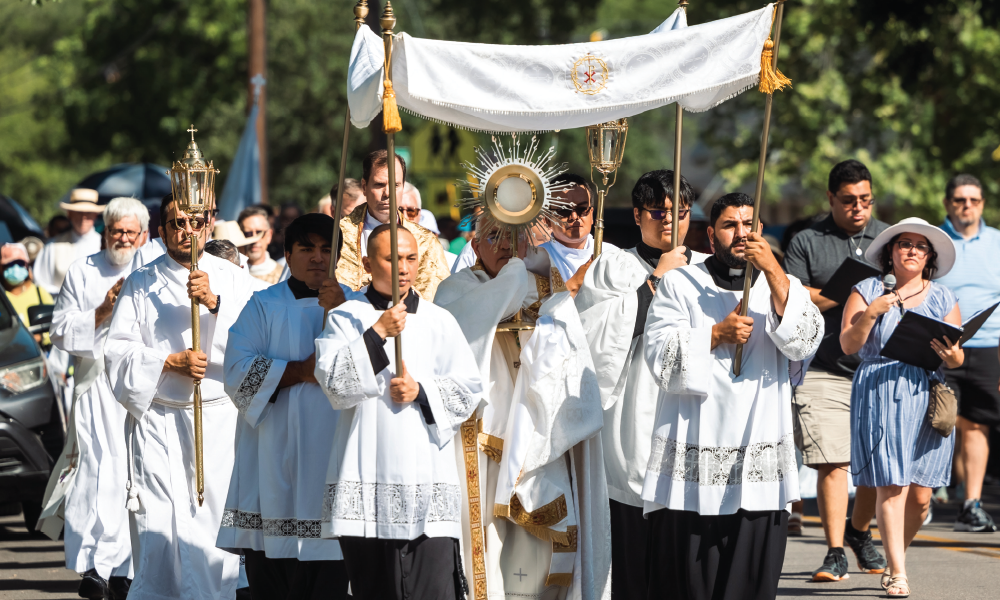 ---
Eucharistic Revival
In Solidarity on the Streets of Austin, We Processed as One Body of Christ
It was hot.
But a refreshing sense of solidarity filled my heart as I joined hundreds of Catholics in a Eucharistic Procession through the streets of Austin from San José Parish to St. Edward's University on June 18. The procession kicked off the three-year Eucharistic Revival in our diocese. 
I came not just to process, but to follow our bishop who carried the Blessed Sacrament in a monstrance — my earthly shepherd leading me to follow the Good Shepherd, Christ our Lord, body, blood, soul and divinity, through the streets of Austin.
I came as a sinner, as an unworthy disciple and, by God's grace, as a saint-in-formation in need of a savior, to walk in my brokenness with the One who makes all things new. I was one among many faithful Catholics who humbled themselves on this sweltering day to express their love for Christ. 
As we meandered through the neighborhood, hymns were sung, litanies were recited, the rosary was prayed and my heart swelled with gratitude for being Catholic, for having received the deposit of faith preserved, protected and promulgated by a church so battered and vilified over 2,000 years, yet so strong and so vibrant after all that time. Thank you, Holy Spirit!
As I walked, my sense of solidarity with fellow Catholics grew. I recalled serving on the altar with Pope Francis at the Christmas Vigil Mass in 2017 and feeling the same sense of solidarity. I thought then of the millions of Catholics who were viewing the Mass around the world, all united in worshiping the God of Abraham, of Isaac, of Jacob, of Jesus. We were one in our faith. 
That same sense of unity washed over me in the procession; around the U.S. on that very day, Catholics participated in similar Eucharistic processions in many different dioceses. And I thought of Jesus' desire that "that they may all be one, as you, Father, are in me and I in you, that they also may be in us." (Jn 17:21)
I walked up near the front of the procession, just behind the canopy, one of the deacons ready to spell Bishop Vásquez in carrying our Lord. I never got that chance, as the bishop carried our Lord nearly the whole way. Therefore, I had the opportunity to notice the people on the streets — walking their dogs, strolling with their babies, waving to us from their cars, almost all recording us on their cell phones in this odd and rare public display of faith; this peaceful, joyous, fervent expression of love of God.
Did I mention it was hot? Whenever we walked out from under the shade of trees, the heat was hellish, as the sun bore down upon us. I thought of the three men in the Book of Daniel who survived King Nebuchadnezzar's fiery furnace because of their faith in the Lord God. (Dn 3) But there was faith aplenty among us pilgrims who followed the Lord this day, faith that fully believed that the bread that came down from heaven is Jesus truly present in the Eucharist. One bread: Jesus. One body: the Church.
Throughout the procession, some angel would bring us bottled water. I thanked him and blessed him each time he arrived. I recalled Jesus' words to the woman at the well, "Everyone who drinks this water will be thirsty again, but whoever drinks the water I give them will never thirst." (Jn 4:13) Each time I finished a bottle of water, I was revived, better able to continue. "Sir, give me this water." (Jn 4:15)
At last, we arrived at St. Edward's University and our Lord was placed on an altar at the top of the stone stairs of the Main Building. After several minutes of quiet Adoration of the Blessed Sacrament, Bishop Vásquez, overlooking the campus and the city of Austin, made the Sign of the Cross with the monstrance, offering Jesus' blessing to all gathered, to the city and to all mankind. There was perfect silence.
For a moment, heaven and earth were close, and the angels and saints surrounded us as with one voice we offered the divine praises: Blessed be God. Blessed be his holy name. Blessed be Jesus Christ, true God and true man. Blessed be the name of Jesus. Blessed be his most Sacred Heart. Blessed be his most precious blood. Blessed be Jesus in the most holy sacrament of the altar ...
And with the ears of my heart blessed by the graces of our Eucharistic Procession, on the eve of the feast of Corpus Christi, I heard these praises anew, all their relevance to the Eucharistic Revival revealed, all their spiritual wisdom reemphasized, all their vital importance to my life — earthly and eternal — resurrected. Praise God from whom all blessings flow.
As I drove home, my spirits soared. I was light, I was salt, I was living in the kingdom of God. I sang "One Bread, One Body." I was floating with hope, peace and joy. I blessed the driver who cut me off on MoPac. Really!
Spending time with the Lord in prayer and adoration is always rewarding, but this day, walking with him in Eucharistic Procession, I experienced what St. Paul prayed: "that Christ may dwell in your hearts through faith; that you, rooted and grounded in love, may … comprehend with all the holy ones what is the breadth and length and height and depth, and to know the love of Christ that surpasses knowledge, so that you may be filled with all the fullness of God." (Eph 3:17-19)
I thought, "Wow, this is just the first day of the Eucharistic Revival — what amazing graces must lie ahead!"
---
Deacon Dan Lupo serves at St. Thomas More Parish in Austin. He is also a member of the leadership team for the Eucharistic Revival in the Diocese of Austin. For more information on the Eucharistic Revival, visit www.austindiocese.org/eucharistic-revival.