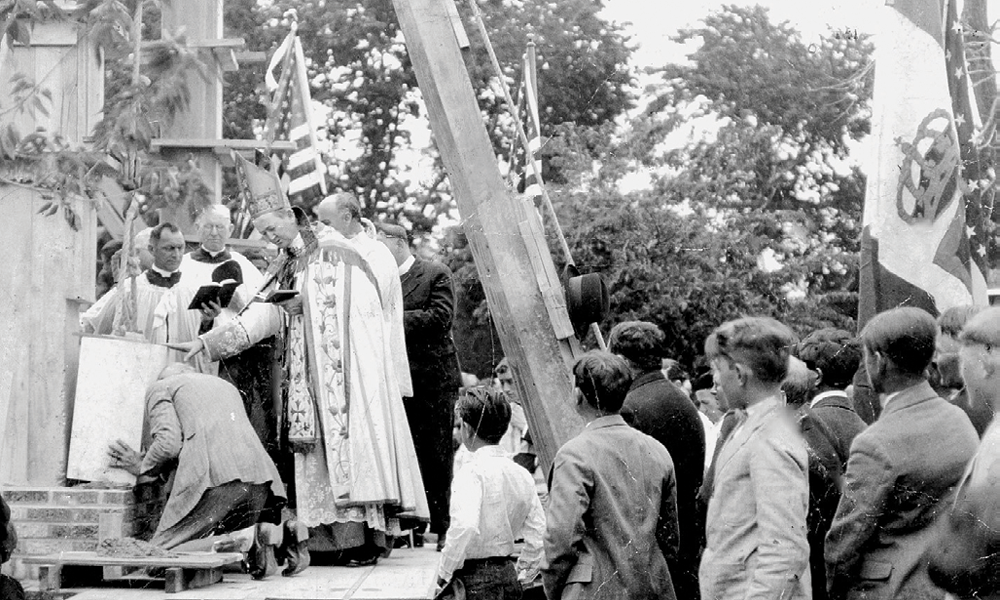 Photo courtesy of Diocese of Austin Archives
---
Thriving parishes began in homes of Mexican Catholics
¡Lee este artículo en español! (Spanish Language Version)

In the early years of the 20th century, 400 years after the appearance of Our Lady of Guadalupe in the valley of Mexico, descendants of St. Juan Diego and his compatriots founded what today are four of the largest parishes in the Diocese of Austin. Mexican Catholics helped establish St. Helen in Georgetown, St. William in Round Rock and St. Margaret Mary in Cedar Park in southern Williamson County and St. Elizabeth of Hungary in Pflugerville in northern Travis County. At the time, they were small rural communities, but now they are part of the thriving Austin Metroplex.
Today, these four parishes boast a combined population of more than 400,000 people, compared to 11,242 in 1930. While the Mexican-American people at the time numbered only 1,633, ranging from 181 in Pflugerville to 753 in the Round Rock area, they were primarily Catholic. Consequently, they led the charge to build churches in the area.
Pflugerville
Mexican families came to Pflugerville in 1910 and bought an acre of land for a cemetery they named Santa Maria. Today, it is designated as a Historic Texas Cemetery. With the direction of Oblate priests from Our Lady of Guadalupe in Austin, Catholics celebrated Mass every Sunday in a hall where the Little League Ballpark was in Pflugerville. Later, the Cantu family hosted Mass at their home at the corner of Wilbarger and Railroad. Then, in 1929, the small Catholic community purchased a site for a church. Bishop Christopher Byrne of the Diocese of Galveston consecrated St. Elizabeth on Sept. 11, 1932, and it gained parish status on June 11, 1984, under Bishop Vincent M. Harris.
Round Rock
In Round Rock, circa 1920, Mexican Catholics were profoundly religious but in danger of leaving the faith to "proselytizing sects." Francisco Carlin opened his home for the celebration of Mass. At the urging of his wife, Carlin took her to Our Lady of Guadalupe Parish in Austin for Mass. The 30-mile round trip soon became impractical, so Carlin appealed to the Holy Cross priests to come to Round Rock at least once a month to celebrate Mass and offered his house as a place of worship. The priest offered the sacrament of reconciliation in an adjoining room. A bell, hanging from a pecan tree, called neighbors to Mass and the children to religious education. This arrangement served as their "parish" for 24 years.
The Catholic Extension Society offered them $1,500 if they would name the church St. William, after their president, instead of Sacred Heart, which the community preferred. The parishioners yielded to the name change and used the money to help build a church, which was dedicated in November 1940. However, they soon outgrew it as more families came to Mass. St. William became an independent parish in 1956. The present church sits on land originally owned by the Carlin family.
Georgetown
Catholics with a firm faith, many of Mexican descent, founded St. Helen in Georgetown in 1931. In the early 1900s, a priest occasionally came to town and celebrated Mass at private homes. In the late 1920s, Father Patrick O'Reilly began celebrating Mass in a tent and then in a freight box car, which was the home of a Mexican family.
Georgetown, with a population of 3,525 in 1930, was predominantly a Protestant town, so it took some work to purchase property for a church. Finally, on May 3, 1931, Bishop Byrne dedicated St. Helen. During its early years, the parish had a Young Men's Club with 20 Mexican members, as well as the Sagrado Corazon de Jesus group and the Hijas de Maria Youth Group.
Leander/Cedar Park
Mexican Americans who worked the ranches in the Leander-Cedar Park area of Williamson County numbered 449 in 1930. They learned, through the pipeline, that Mexicans in Leander, Cedar Park and Jollyville held Mass and prayed the rosary in their homes. By 1938, 15 Mexican families at Rancho Blanco attended Mass on Saturday mornings at the home of the ranch owners, the Carothers, who later became parishioners.
In 1939, the faithful attended Mass at a home behind the New Hope Baptist Church near Cedar Park. Other families attended Mass at the Sunset Ranch, also owned by Catholics. The following year, Father Meredith from the Archdiocese of Boston donated $3,000 to build a church in Leander, with the proviso that it be named St. Margaret Mary, after his mother. Thus St. Margaret Mary Parish came to be (the church eventually moved from Leander to Cedar Park).
Bishop Byrne dedicated the original church on Nov. 29, 1942. It had no electricity, water, indoor restrooms or sidewalks. Although collections usually totaled less than $1, parishioners raised money to support the church by selling tamales, hosting jamaicas and selling baked goods.
Today, these four parishes are flourishing cosmopolitan congregations reflective of the universality of the Catholic Church. Each parish offers Masses in English and Spanish. Our Lady of Guadalupe's request to build a church and spread the faith continues to resonate in the Diocese of Austin.
---
Alfredo E. Cárdenas began as a freelance writer for the Catholic Spirit in 2000, writing histories of parishes. In 2010, Bishop Michael Mulvey of the Diocese of Corpus Christi named him editor of the South Texas Catholic, a publication of the Corpus Christi Diocese. Upon his retirement in 2017, he returned to Austin, where he resumed writing for the Catholic Spirit.