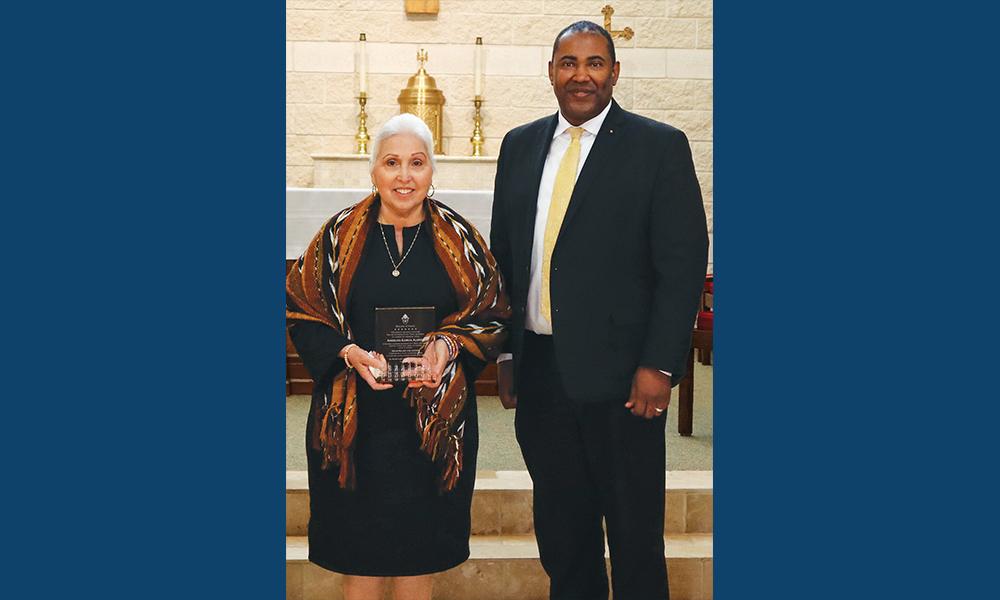 ---
Santa Teresa parishioner receives social justice award
¡Lee este artículo en español!

On Jan. 14, Angelita Garcia Alonzo received the diocesan Drum Major for Justice Award at St. Michael's Catholic Academy in Austin. The award was established in 2019 to honor an individual whose life is dedicated to promoting social justice and the dignity of all. Commemorating the work and sacrifices of Dr. Martin Luther King Jr., the award is named after his Drum Major Instinct sermon, which encourages us to focus on service rather than public acclaim.
"Angelita truly epitomizes the ideals of what it means to dedicate one's life to the promotion of social justice and the dignity of every human life," said DeKarlos Blackmon, secretariat director of Life, Charity and Justice for the Diocese of Austin.
Blackmon praised Garcia Alonzo for her work as he presented the award during the Diocese of Austin's annual Commemoration of the Legacy of Dr. Martin Luther King Jr. celebration. 
Born in the Lower Rio Grande Valley, the sixth of 10 children, Garcia Alonzo's parents became migrant farm-workers in the 1950s. With their home base in South Texas, they followed the work, traveling to the Midwest and California. Angelita also worked the fields. 
At age 21, Garcia Alonzo left home to serve migrant farmworkers as a community health worker and organizer. Her personal experience in the migrant workforce made her sensitive to the needs of those outside of mainstream society.
For 16 years, she has been active in parish social ministry at Santa Teresa Parish in Bryan. The parish serves many immigrant families and offers a place for those inside and outside the parish to come for help. Garcia Alonzo brings her knowledge, caring and expertise to difficult situations. She serves as a liaison between those needing help and places that can provide assistance.
Father Victor Mayorga, pastor of Santa Teresa Parish in Bryan, explained that when Garcia Alonzo helps, it is an act of love. 
"I've observed her love and selfless dedication to work with the least favored people in the area. I see in her the ability to dialogue with everyone. She is recognized by many families, who testify to her courage when she accompanied them in difficult cases and where she is present on behalf of the church to help resolve their difficulties," Father Mayorga said. 
Garcia Alonzo was also instrumental in unifying other Christian congregations to work together to help the marginalized in the community. In April 2006, as concern for social justice began to grow and evolve within the parish, Garcia Alonzo was one of the leaders who organized a peaceful march in Bryan to call attention to the presence of immigrants in the community and their challenges. 
This concern was shared by some Protestant congregations in the area. Over time and through collaboration, Garcia Alonzo and Santa Teresa Parish were leading forces in founding the Brazos Interfaith Immigration Network (BIIN). BIIN's mission is to promote the human dignity and well-being of all immigrants in the community and to advocate for and facilitate better access to legal, educational and social services.
BIIN's activities and outreach include answering immigration questions, translating official documents, legal assistance, support in domestic violence situations, and help with obtaining healthcare, food and social services. BIIN also offers conversational English classes.
Garcia Alonzo is both practical and creative in her approach to help. For example, not having the proper documents can stand in the way of an immigrant moving forward in life. Last August, she worked with BIIN and the Honduras Consulate to host a two-day event at Santa Teresa Parish to process documents for immigrants from Honduras.
An avid volunteer in the community, Garcia Alonzo also serves on the board of the Prenatal Clinic, which provides healthcare and education to indigent pregnant women in the Brazos Valley. In addition, she volunteers for a monthly mobile food pantry with her parish, other churches and an organization that helps the lower-wage workers at Texas A&M University. The pantry serves an average of 400 families monthly.
In January, Garcia Alonzo represented the Austin Diocese at the U.S. Conference of Catholic Bishops (USCCB) Catholic Social Ministry Gathering. This event brought hundreds of leaders in social ministry together to share ideas and advocate for the most vulnerable members of society. 
"I truly and deeply believe that God calls us to serve. This is my way to thank God for the blessings I have," Garcia Alonzo said.
---
Mary P. Walker has written for the Catholic Spirit for more than 20 years. She and her husband are parishioners of St. Thomas Aquinas Parish in College Station.